food & drink · arts & culture · music & nightlife · attractions & tours · outdoor activities ·
Published March 15, 2023
NYC's Ultimate Spring Bucket List
Experience NYC in full bloom at these must-do experiences this spring.​🌷​
by New York Bucket List
Spring in New York City may feel brief, but it still brings a full social calendar of events and activities. The cold winter weather is melting away and the city comes to life with blooming flowers, outdoor events, and bustling streets. After months of being cooped up indoors, it's finally time to shed your winter coat and explore all that the city has to offer.
From picnics in the park to outdoor movie showings to art festivals and flower displays, there are endless possibilities of things to do this spring in NYC. To make it easy, We've rounded up a handy list of some of the best activities and events to check out during this beautiful season in the city that never sleeps.
22 of the Best Things to do This Spring in NYC
See Spring Blossoms Across the City
Cherry blossoms and spring go hand-in-hand, and in New York City, there are so many amazing places to catch the seasonal blooms. From public parks and botanical gardens to stunning dining patios, we rounded up some of the best places to see the blossoms this spring.
Where: Various locations.
More information.
Attend an Alice in Wonderland Tea Party
Celebrate the return of spring with a topsy-turvy journey into Wonderland! During this themed cocktail adventure, you'll discover hidden secrets when you step through the looking-glass, participate in an oversized chess match, solve riddles, and play Croquet. You'll also be invited to The White Queen's exclusive party, creating a giant smoking cocktail concoction as you pick your brain and untangle whether Wonderland is an extraordinary dream or a crazy reality. Expect a beautiful design, new tasty cocktails, and lots of surprises along the way!
Where: Pekarna NYC: 594 Amsterdam Ave, New York, NY
More information.
Treat Yourself to a Spa Day
Take advantage of later sunsets, and book yourself an evening spa treatment with a view. QC NY Spa on Governor's Island is a retreat from the city without actually having to leave the city. Just a 5-minute ferry ride from downtown, you can leave the office at 5:00 and find yourself enjoying a Sunset Aperitivo followed by a dip in the heated spa pool by 5:30. With lush gardens, relaxation areas, steam rooms, and saunas, there's no better way to spend a weeknight.
Where: Governors Island, 112 Andes Rd, New York, NY
More information.
Stroll Through the New York Botanical Garden
Spring greenery and blossoms are bursting at the New York Botanical Garden, the largest city-bound botanical garden in the US. Stroll the 250-acre grounds, take in the fragrant azalea blossoms and flowering cherry trees, and don't miss the Annual Orchid Show, running through April 23.
Where: 2900 Southern Boulevard, Bronx, NY
More information.
Check Out the Skyline Series at Penthouse
This spring kicks off a series of shows with an incredible lineup of up-and-coming DJ talent at The Penthouse atop the Ravel Hotel. Take in sweeping views of the Manhattan Skyline while dancing, listening to music, socializing, and soaking up warm spring nights in the city.
Where: The Penthouse: 8-08 Queens Plaza S, Queens, NY
More information.
See Macy's Flower Show
Macy's Annual Flower Show is back for 2023, with over one million florals and fauna making up its stunning display. Using flowers native to countries from all over the world, Macy's partners with local growers to create a truly unique combination you won't see anywhere else. See the spectacle for yourself between March 26 and April 10 at the store's marquee location. This event is completely free and open to the public!
Where: 151 W 34st Street, between Sixth and Seventh Avenues.
More information.
Take a Ferry Trip to the Beach
The weather is finally getting warmer, and the sun is starting to shine a little brighter, which means it's officially time to get outdoors. Seastreak is a ferry line offering high-speed luxury vessels with seasonal routes to spots like Martha's Vineyard, Sandy Hook Beach, or The Sandbox at Seastreak Beach, featuring live music every night, signature cocktails, and food trucks. You can even spend an afternoon looking for humpback whales on a whale-watching cruise.
Where: Various locations. Check the website for details.
More information.
Experience MoonRise
MoonRise is a groundbreaking performance art space and craft cocktail lounge designed to honor the thirteen ancient moon goddesses. Enjoy an immersive, theatrical experience highlighting the stories of each moon goddess through high-level nouveau circus-based acts and multi-sensory interactive installations.
You can also check out Moon Dust, the newest immersive cocktail experience in the city with uniquely crafted cocktails served by ancient Moon Goddesses. Immerse yourself in the ethereal free-roaming space with spectacular single performances from the MoonRise cast combining dance, theater, circus, aerial, and acrobatics.
Where: 1329 Willoughby Ave, Brooklyn, NY 11237
More information.
Go to a Morning Dance Party in Central Park
Embrace fresh starts and new beginnings with Daybreaker, the invigorating morning dance party coming to NYC on April 19. Wake up and dance in scenic Central Park, sober first thing in the morning. The experience includes a DJ, live musician, free coffee, kombucha, and breakfast treats, along with a host of surprise performances.
Where: Central Park Naumburg Bandshell (W 72nd St, New York, NY)
More information.
Get Messy at an Immersive Art Class
After a long, gray winter, it's time to add some color back into our lives. Let loose and paint and draw on doors, walls, ceilings, chairs, and more in a fun and laid-back atmosphere. This art room experience is a great chance to use your imagination and show your fun side. You'll also get to create a 12x16 canvas to take home and display. Clothes protection, varnishing, choice of paints, and canvas are all included!
Where: 28 W. 36th Street, 10th floor, New York, NY
More information.
Grab a bite to eat at Bronx Night Market
The monthly Bronx Night Market returns to Fordham Plaza starting April 30! Join in on the largest, all-family foodie celebration in the Bronx, where you can enjoy your favorite food and beverage vendors, plus a steady rotation of more than two dozen arts and crafts merchants at every event.
Where: 1 Fordham Plaza, Bronx, NY 10458
More information.
Set Sail on a Cruise Around New York Harbor
Escape the mayhem and noise of the NYC streets, and get a breath of fresh air on a cruise around New York Harbor. You'll take in the Manhattan skyline, plus spectacular views of Ellis Island and the Statue of Liberty. Spend a warm spring afternoon on the water, book a sunset cruise, or go at night and see the city lit up and reflected on the water—you really can't go wrong.
Where: Chelsea Piers near 22nd St on the Hudson River. Exact meeting location details will be provided immediately upon purchase of tickets.
More information.
Have a Picnic in Prospect Park
Pack up some sandwiches, drinks, and a blanket, and head outside for a picnic. There's something so quintessentially spring about picnicking, and NYC has no shortage of green parks and pretty scenery to enjoy a meal al fresco. Prospect Park is an oasis in Brooklyn and offers 585 acres of space to spread out and enjoy the mild weather and spring blooms.
Pro-tip: Head to nearby Prospect Provisions and grab some artisanal sandwiches to-go if you don't want to deal with meal prep!
Where: Prospect Park, Brooklyn, NY
More information.
Watch an Outdoor Movie
The arrival of warmer weather means New Yorkers get to enjoy more outdoor activities! Head to the plaza at The Standard, High Line where you can catch cult classics like Ferris Bueller's Day Off, Clueless, and Mean Girls. Enjoy small bites, popcorn, and cocktails (plus outdoor heaters for cooler nights), under the dazzling lights of the city.
Where: 848 Washington St, New York, NY
More information.
Take Advantage of Seasonal Rooftop Dining
Why have dinner inside when you can have it on a rooftop? New York is arguably the best city in the world to enjoy rooftop dining with stunning views no matter where you are in the city. Now that temperatures are hitting that sweet spot between not too hot and not too cold, it's the perfect time to book a dinner reservation with a view. For a lineup of all the best places, check out our guide to the best rooftops in NYC.
Where: Various locations.
More information.
Take an Oyster Shucking Class (With Wine)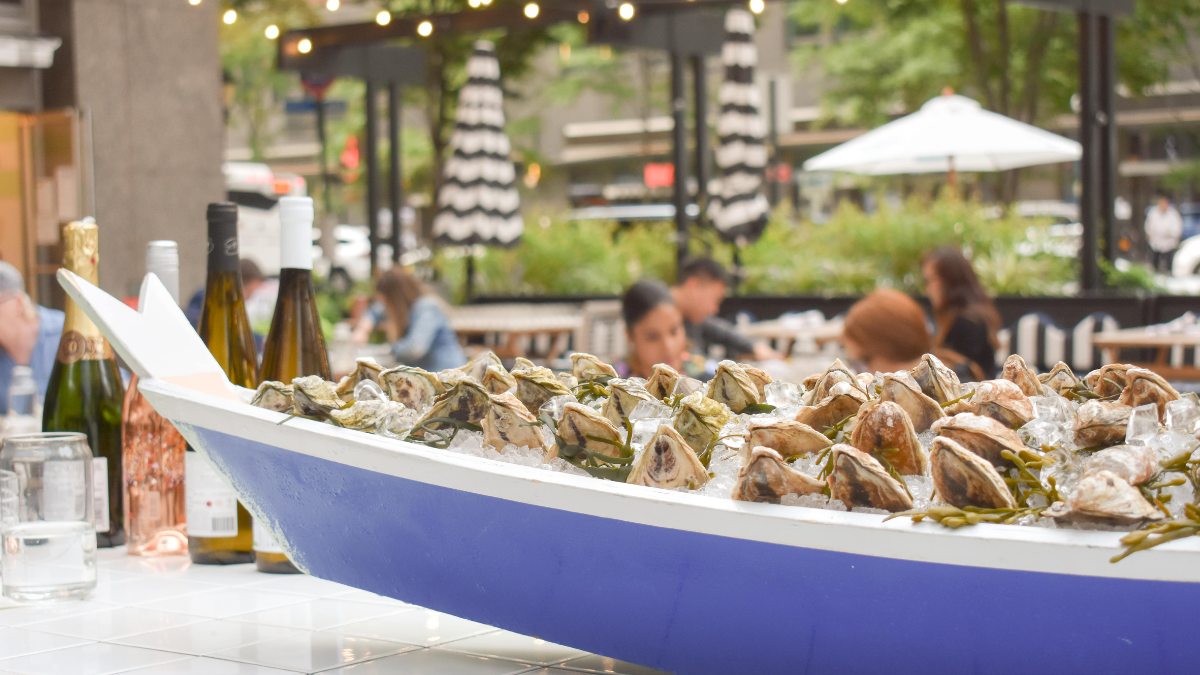 Become an oyster aficionado and get ready to break out your new party trick after taking this oyster shucking class. Instructors will provide a hands-on demonstration, taking participants through a journey of shucking, tasting, and pairing four types of oysters to learn about the various flavors and textures of each. Enjoy wine pairings along the way, and take home the skills and tools you need to prepare a platter of oysters on the half shell at home.
Where: Seamore's Market Bar & Restaurant: West 52nd Street, New York, NY
More information.
Explore Artchehouse: Magentaverse
Our favorite digital art experience is back with a new, colorful exhibit. Magentaverse explores the boundless sights, sounds, feelings, and inspirations of the Pantone Color of the Year 2023, Viva Magenta. This immersive experience lets you explore the virtual within the physical realm to examine the connections between nature and technology.
Where: 439 W 15th St., New York, NY
More information.
Learn How to Make Negronis
Enjoy an exclusive cocktail-making class with industry experts while taking in unparalleled views of the Brooklyn Bridge! Learn how to make the classic Negroni and perfect your shaking, stirring, and garnishing skills. Tickets include a welcome pour of house-made vermouth, plus small bites like Pork Tonkatsu Sliders, Fenugreek Chicken Skewer and Yogurt Dip, and Mini Cheese Pizzas!
Where: Pearl Alley: 89 South Street, New York, NY
More information.
Take an Immersive Social Yoga Class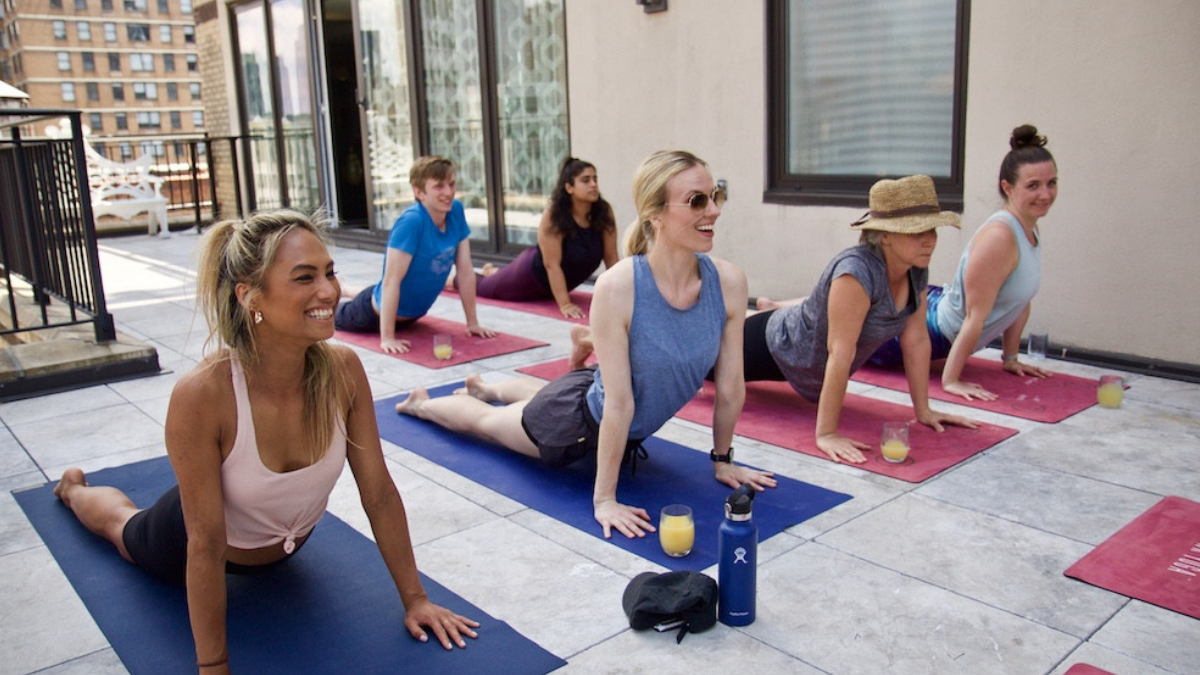 Yoga, but make it boozy. Perfect for both beginners and seasoned yogis alike, this social, interactive yoga experience is where self-care becomes community care. Think "yoga drinking game" with games, icebreakers, storytelling, and dancing with a beverage in hand, all through the vehicle of a super fun beginner-friendly yoga class.
Where: Athleta: 126 5th Avenue, New York, NY
More information.
Tour Long Island Vineyards
Escape the city for a day and spend the afternoon sampling wines and touring some of Long Island's most notable vineyards. This all-inclusive package includes tours of three award-winning wineries with multiple tasting opportunities at each destination, a gourmet picnic lunch with sandwiches, water, and snacks, plus roundtrip transportation to and from Manhattan. Sounds like a perfect Sunday.
Where: Pickup at 85 Delancey St, Lower East Side, New York, NY
More information.
Go to the Affordable Art Fair
The art fair for the people returns to the Metropolitan Pavilion this spring! Running from March 22 through March 26, this fair features original contemporary artworks starting as low as $100. Explore work by local, national, and international exhibitors, and spruce up your space with a bright new piece!
Where: 125 W 18th St, New York, NY 10011
More information.
Participate in NYCRuns Spring Fling 5k & 10k
Start warming up those summer bodies right with an as-active-as-you'd-like running tour of Governor's Island. Enjoy stunning views of Lower Manhattan, New Jersey, the Statue of Liberty, Brooklyn, the Verrazano-Narrows Bridge, and more! Entry includes a ferry ride, a t-shirt, and post-race snacks!
Where: Governors Island, Colonels Row, New York, NY
More information.
LIKE WHAT YOU'VE READ?
Never miss out on a new experience!
Create a Bucket Listers account to access exclusive offers and the latest news in your city