food & drink ·
Published October 3, 2023
The Best Brunch Spots in Miami
Rise, shine, and brunch! We found the best places for pancakes and mimosas in Miami. 🥞🥂
by Miami Bucket List
With a nightlife like Miami's, you need a lifesaving brunch scene. Thankfully, Magic City delivers. Showing up in sweats to guzzle coffee and breakfast burgers? Welcome. Taking your grandparents out for a charming meal? Brunch it is. Ordering bottomless drinks at 10 AM? More power to you.
From waterfront bistros to buzzing rooftop lounges, to diners infused with Cuban and Colombian flavors, you can find it all in Miami. We rounded up the top spots in the city for a delicious brunch—whether you need a strong pot of coffee or a pitcher of bloody marys.

The Top 10 Places for Brunch in Miami
Seaspice
Start your weekend with Maine Lobster Benedict and stunning views of the Miami River and downtown skyline. The Seaspice brasserie is on another level for elegant brunch, and one of the most beautiful restaurants in the city. The spot embraces elevated "gastro-classic" dining, with dishes like Truffle Parmesan Tagliatelle, served to you on the chic, waterfront patio.
Where: 412 NW N River Dr., Miami, FL
More information Seaspice
Sadelle's Coconut Grove
Set in idyllic Coconut Grove, with branches in Las Vegas, New York, Paris, and beyond, the famed Sadelle's is hailed by Harper's Bazaar and Cosmo as a must-visit brunch spot, and their renowned sticky buns were listed on the NY Times Best Dishes of 2015. Despite ample indoor and outdoor seating, reservations remain highly competitive to snag, likely due to its status as a brag-worthy destination, or the allure of their Insta-famous Bagel Towers.
Where: 3321 Mary St, Miami, FL
More information on Sadelle's Coconut Grove
Moxies Miami Brickel
Moxies is a spacious, buzzy, and globally-inspired restaurant—one so popular, they have 50 locations across Canada and 5 US locations in Dallas, Houston, and Miami. Come with friends to this crowd-pleasing spot with good seating and enjoy everything from bacon, omelets, and brioche bites to handcrafted cocktails and even breakfast shots. As their marquee sign reads: I will if you do.
Where: 900 S. Miami Avenue, Miami, FL
More information on Moxies.
Negroni Bistro & Sushi Bar
This spot is known for its buzzy nightlife scene, but don't sleep on the weekend brunch specials. Come for Sunday brunch and indulge in spritzy cocktails, natural juices, paninis, croissants, fruit plates, and eggs benedict to start. The Brioche and Banana French Toast is a must-try at the new Weston location, and you won't be disappointed with the Provo Ranchera or Croque Madame Huancaina in at the Midtown location. At either spot, you'll find great food, music, and an always-popping atmosphere.
Where: Midtown: 3201 Buena Vista Blvd | Weston: 1744 Main St. Weston
More information on Negroni.
Ol'Days
Come to Ol'Days for the all-day brunch, and stay for the soothing natural-wood interior and cozy atmosphere. Order up some fresh farm to table specials, with almond milk prepped in-house for your specialty lattes, avocado toast with free-range eggs, and "light" bloody marys, made with a refreshing white vermouth.
Where: 3301 NE 1st Ave, Miami, FL
More information on Ol'Days.
Zuma Miami
Zuma Miami features Chef Rainer Becker's famed contemporary Japanese izakaya dining experience from the robata grill. Known globally for its upscale Japanese cuisine, the restaurant space matches its food with a sleek, modern, and admittedly ritzy "see-and-be-seen" ambiance. The weekend brunch is all-you-can-eat tiers of sushi, sashimi, and bottomless brunch bevs (mimosas, martinis, sake), against a backdrop of live DJs and sweeping river views.
Where: 270 Biscayne Blvd Way, Miami, FL
More information on Zuma.
Novikov Miami
Just across the street from Zuma is the equally world-renowned Chinese-Japanese seafood sensation, Novikokv. They too favor robata grill and wok dishes, with a delicious dim sum and sushi breakfast buffet. Come to enjoy the bottomless appetizers and drinks, premium pan-Asian buffet, thumping DJ soundtrack, and exceptional dumplings.
P.S. It's also a total celeb hot spot, so keep a lookout, you never know who might show up.
Where: 300 S Biscayne Blvd, Miami, FL
More information Novikov.
Chug's Diner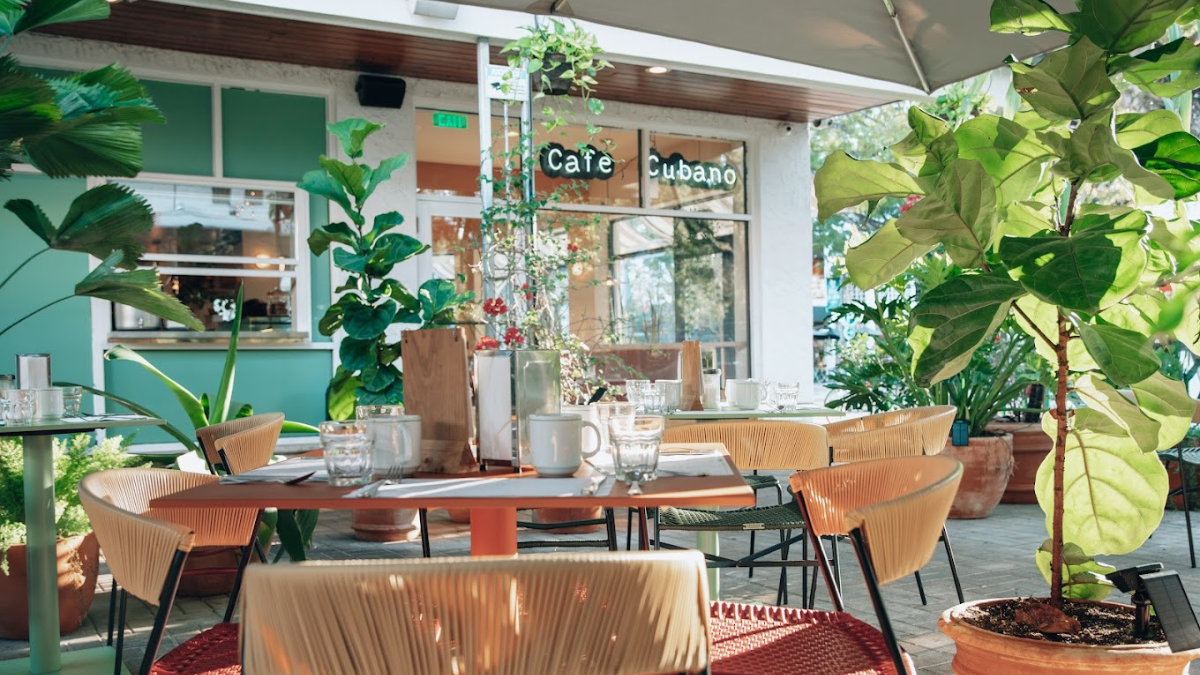 Chug's Diner, a Coconut Grove institution acclaimed by Michelin for its Cuban and American diner fare, is a must-visit. Named for its Chef, this spot serves up cast iron pancakes, steak cut and smoked bacon, fluffy pastelitos, harina con huevos and masitas, and more—all served in the diner setting of cozy leather booths alongside a lineup of whipped cream milkshakes and malts.
Where: 3444 Main Hwy Suite 21, Miami, FL
More information on Chug's Diner.
Serena
Serena, a breezy rooftop restaurant atop Moxy Miami South Beach, brings the vibe of Oaxaca and Mexico City to the Miami skyline. Enjoy their Mexican deviled eggs, biscuits and chorizo gravy, breakfast skillets, and so much more on the colored cushions of their lushly-planted dining space. The colorful atmosphere will have you feeling like you're brunching in a mosaic. Don't miss their greenhouse-like bar, flanked by glass garage doors.
Where: 915 Collins Court (between 9th and 10th), Miami, FL
More information on Serena.
Sweet Liberty Drinks & Supply Company
Available until 5pm on Sundays, one of Miami's best bars also serves a delicious brunch. You'll come for the classics—avocado toast, eggs, chicken and waffles—but fall in love with their more signature offers—east and west coast oysters, cauliflower nachos, and bottomless rosé on tap for $40 per person.
Where: 237 20th St Suite B, Miami, FL
More information on Sweet Liberty.
LIKE WHAT YOU'VE READ?
Never miss out on a new experience!
Create a Bucket Listers account to access exclusive offers and the latest news in your city