fitness & wellness · arts & culture · attractions & tours · outdoor activities ·
Published June 27, 2023
The Best Getaway Trips from San Francisco
Eight road trips from SF for when you need a break from Karl the Fog. 🚘 🏞️
by San Francisco Bucket List
Whether you've grown weary of the ever-present Karl the Fog, need a break from the perpetual search for parking, or simply want an enjoyable local getaway amidst stunning natural wonders—we've got you.
Our renowned city by the bay is not only brimming with national landmarks and a plethora of exciting must-try attractions, it also sits within a day's drive of awe-inspiring coastlines, majestic redwoods, the birthplace of mainland surfing, and the largest alpine lake in North America! If that feels like a lot, here's a cheat sheet of some of the best places to take a day trip or weekend getaway from San Francisco.

Eight Weekend Escapes and Day Trips Near San Francisco
Huttopia Wine Country (Newly Opened!)
Distance from SF: 2 hours
Only two hours from Downtown SF, on a 4,300-acre ranch winery, a new way to savor the best of Lake County has arrived. Huttopia's signature wood and canvas "tents"—complete with electricity, kitchenettes, private bathrooms, and large enclosed decks—have been placed within the gorgeous Six Sigma Winery and Ranch. You'll find 63 accommodations, miles of hiking trails, a custom Airstream food truck, a sparkling pool, a locally-sourced restaurant, and a camp store!
Activity Highlights:
Enjoy world-class tastings at the winery daily and the all-terrain Pinzgauer tour of the grounds.
Lounge poolside at their heated swimming pool and wading pool by the central lodge. Add a smoothie or a cold one while relaxing in the sun for the cherry on top.
Rent an electric mountain bike to cover the 1,000 acres of scenic trails and discover the beauty of nearby Bothe-Napa Valley State Park.
Sausalito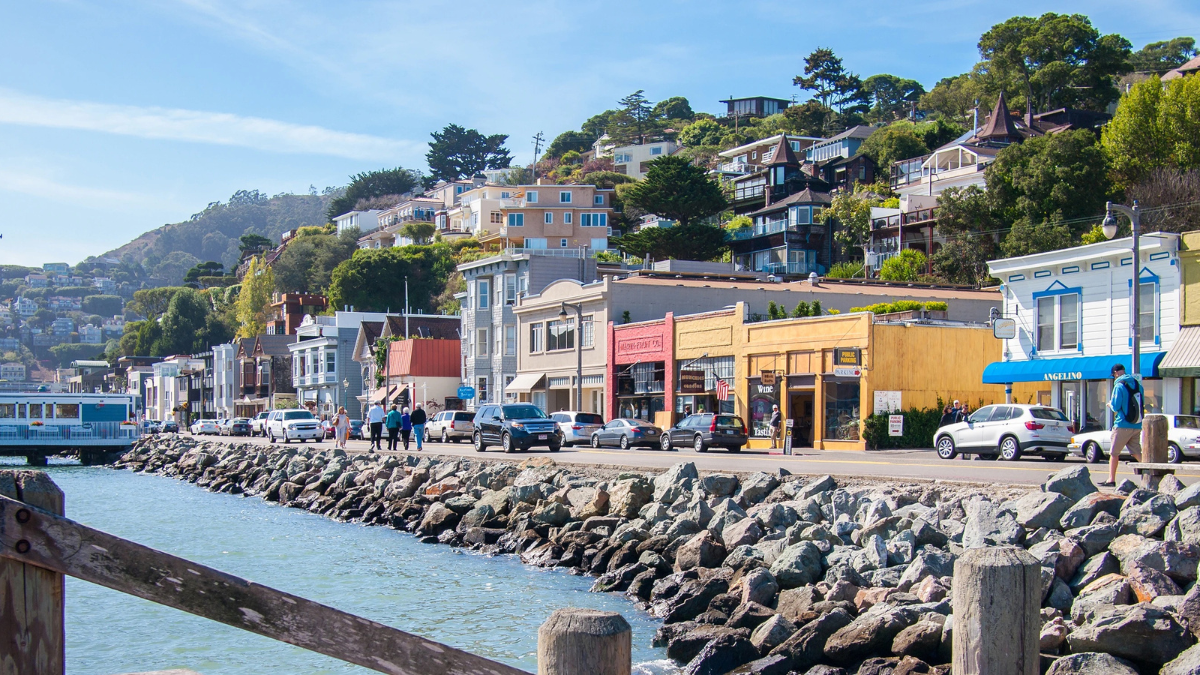 Distance from SF: 30 minutes
Technically only a few miles from SF, Sausalito will still very much feel like you're jet-setting to a seaside town in Italy or Greece. With tiered streets, colorful houseboats to ogle at (even a Taj Mahal-inspired one!), and a myriad of charming cafes overlooking the bay, you'll find your perfect coastal escape.
Activity Highlights:
Visit the ICB Artists Association to see 100+ Bay Area artists' work under one iconic roof in the Marinship district.
Savor the city's fishing village industry through fresh seafood like the seared mahi mahi with pineapple pico de gallo served at Copita Tequilera y Comida.
Visit marine animals at the Marine Mammal Center, where you can see rescued sea creatures, including dolphins, seals and even whales(!) that are undergoing rehabilitation before returning to the wild.
Big Sur
Distance from SF: 2 hours, 30 minutes
Experience coastal royalty at Big Sur, a breathtaking stretch of California's coastline between Carmel and San Simeon. A 2.5-hour drive along scenic Highway 1 unveils epic cliffs, crashing waves, and mesmerizing vistas. The region has tons of hiking, camping, and beaches, and is known for its gorgeous viewing spots, like McWay Falls, with a coastal waterfall flowing straight into the Pacific.
Activity Highlights:
Santa Cruz
Distance from SF: 1 hour, 20 minutes
For a blend of beach retreat and lively surf town, look no further than Santa Cruz. This vibrant town has natural beauty, a nostalgia-inducing carnival boardwalk, a delicious farm-to-table food scene, and an unmatched surfing culture. It's actually the birthplace of mainland surfing, dating back to 1855 when three Hawaiian princes showed locals how to hang ten with boards fashioned from redwood planks.
Activity Highlights:
Take in 100 years of surf history at the Santa Cruz Surfing Museum, housed in the Mark Abbott Memorial Lighthouse. Or, try longboarding yourself at Pleasure Point!

Cruise the Santa Cruz Beach Boardwalk, a historic seaside amusement park featuring thrilling rides, games, and its own beachfront. And/or enjoy the adjacent Santa Cruz Wharf. The historic, serene wooden pier is lined with shops, restaurants, and ocean views.

Hit Capitola to see the vibrant, pastel stone condos lining the coastline. It's also a great spot for dinner at one of the nearby restaurants and bars.
Half Moon Bay
Distance from SF: 1 hour
A town as beautifully serene as its name, Half Moon Bay is an idyllic restorative retreat. Set within lush green hills against the sparkling Pacific Ocean, it offers a relaxed coastal ambiance with plenty of outdoor activities, a seafood-heavy restaurant scene (we recommend eating your way through Pillar Point Harbor), bed-and-breakfasts, and a charming downtown area to enjoy breezy nights.
Activity Highlights:
Visit Half Moon Bay State Park, consisting of four beaches: Francis, Venice, Dunes, and Roosevelt Beach, and enjoy an afternoon of picnicking, fishing, and surfing.

See the legendary Mavericks Beach, known for its colossal waves and world-class surfing conditions (for experienced surfers only).
Traverse the pristine California Coastal Trail! It winds seven miles along coastal bluffs and stretches of shoreline, creeks, meadows, and cypress groves all in one. Start at Pillar Point Harbor, and continue to Miramar Beach.
Tomales Bay
Distance from SF: 1 hour, 20 minutes
A quick hour or so from SF, Tomales Bay is a slender 15-mile inlet in Marin County that's super popular for weekend getaways. It's dotted with seafood shacks, wildlife conservation areas, water sports activities, and the oldest saloon in the county. It's beautiful, fun, and, most importantly, it is *the* place to indulge in fresh oysters.
Activity Highlights:
Oyster Tasting! Visit one of the local farms or restaurants to savor these briny treats. We recommend Hog Island Oyster Co, which also offers tours and shucking classes.
Go kayaking or stand-up paddleboarding on the calm waters of the bay. You can rent gear from Blue Waters Kayaking.
Enjoy wildlife viewing at Tomales Bay State Park, keeping an eye out for seals, shorebirds, and other wildlife that inhabit the bay.
Lake Tahoe
Distance from SF: 3 hours, 20 minutes
Adventure buddies: take an awesome weekend getaway to beautiful Lake Tahoe to see the stunning crystal-clear water, surrounded by majestic mountains and dense forests. Visitors can dive into outdoor sports, from mountain biking and backpacking to canoeing and climbing. There's also a vibrant dining and entertainment scene at nearby lodgings like the Hard Rock Hotel and Harrah's Lake Tahoe. if spending the night in a cabin or tent isn't your thing.
Activity Highlights:
Soak up the sun on the pristine sandy beaches of Lake Tahoe. Try Sand Harbor, Kings Beach, or Zephyr Cove (always popping on July 4th).
Discover the iconic Emerald Bay, a National Natural Landmark and one of Lake Tahoe's most stunning attractions. Hike down to Vikingsholm, a Scandinavian-style castle, or enjoy panoramic views from the Emerald Bay Overlook.
Monterey
Distance from SF: 2 hours
The scene of the glamorous HBO drama Big Little Lies does not disappoint: Monterey Bay is a lively city in the heart of California's scenic central coast. It houses steep cliffed shorelines, cypress forests, and beaches, along with world-renowned golfing and exclusive wineries. It's known for its abundant marine wildlife with regular migrations of killer whales and dolphin pods, plus a world-class, 200+ exhibit aquarium.
Activity Highlights:
Take the famous 17-Mile Drive, where you can admire dramatic cliffs, pristine beaches, and iconic landmarks like the Lone Cypress.

Stroll Cannery Row, a vibrant waterfront district with boutique shops, art galleries, and inviting seafood restaurants.

Head to Old Fisherman's Wharf to take a whale-watching excursion or enjoy a stroll and savor some delicious clam chowder.
EXPLORE MORE:
San Francisco's Ultimate 2023 Summer Bucket List
How to Spend a Perfect Day in The Mission
20 of the Best Wineries in the Napa Valley
LIKE WHAT YOU'VE READ?
Never miss out on a new experience!
Create a Bucket Listers account to access exclusive offers and the latest news in your city