food & drink ·
Published January 19, 2023
The NYC Guide To Heated Outdoor Dining
Where New Yorkers warm up when it's freezing cold out. ❄️
by New York Bucket List
Restaurants are pulling out all the stops for New Yorkers to enjoy a meal, and a hot cocktail or two, despite the frigid temperatures. Covered patios, private igloos and tents, and plenty of heaters are out to create a cozy setting.
With restaurants constantly out-innovating themselves and coming up with unique ways to keep our stomachs full and bodies warm in the cold, we're committed to updating this resource for you as much as possible.
Loreley Beer Garden
Nothing warms you up like some lively tavern vibes, German beer and stick to your ribs cuisine like bratwurst and schnitzel! Experience it all on the largest heated outdoor beer garden in Manhattan's lower East Side: Loreley. And, until March 6th, enjoy their Snowy Winter Wonderland Installation! Their beer garden will be adorned with faux snow, ice sculptures, ice shots, themed hot cocktails and spiked cider—and more!
Where: 7 Rivington Street
Outdoor Dining Feature: Heated Patio
Alfie's Bar and Kitchen
In the heart of Hell's Kitchen, is a rustic, warm hangout that serves craft beer on tap, small-batch whiskey and gourmet comfort food that can soothe all your troubles. Head to Alfie's and enjoy their outdoor, enclosed seating surrounded by heat lamps—and meals like their rum custard soaked French toast coated with coffee cake crumble.
Where: 800 9th Ave
Outdoor Dining Feature: Heat lamps. Enclosed patio tables.
Aretsky's Patroon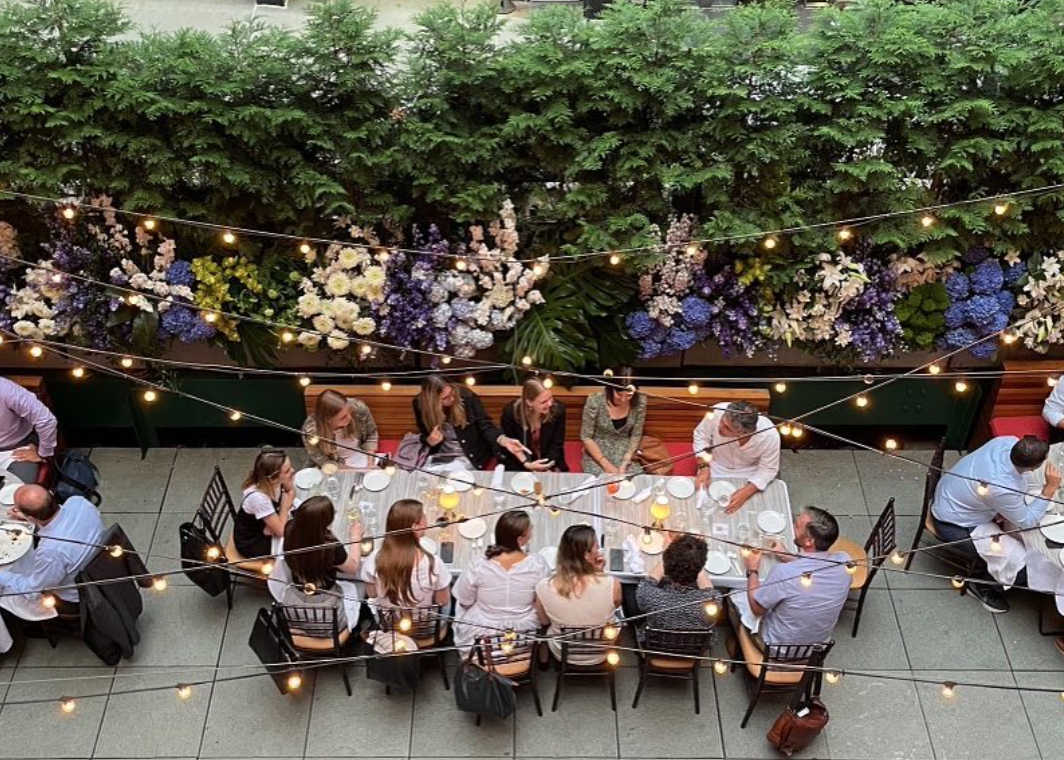 On the top floor of this Midtown East townhouse, a zinc bar, teak-clad paneling and modern strung-lit decor create a dreamy rooftop for elegant dining. Currently described as "opening soon" on their site, this heated rooftop is set to return around mid-January.
Where: 160 E 46th St, New York, NY 10017
Outdoor Dining Feature: Heated Rooftop
Lafayette
You must add the magic of Le Village de Lafayette Winter Village to your bucket list! Each heated Snow Chalet has its own dedicated service team, offering comfort, snow decor and warmth to all guests. Reserve one of these chalets decorated in light-speckled garland, and you'll immediately be transported to a winter wonderland where après is the name of the game. Reservations are available for dinner and weekend brunch at $125 per person—and with a gruyere truffle fondue, Braised Short Rib and Crepe Suzette Flambe on the menu, they're sure to fill up fast.
Where: 380 Lafayette Street, New York, NY 10003
Outdoor Dining Feature: Private Heated Snow Chalets
Fairfax Tavern and Bar
Another corner gem heating up the sidewalks of the West Village is Fairfax. Their decked out sidewalk yurts, with douglas firs lining the walls and cozy furs draping the chairs, are the perfect cold weather escape.
Where: 234 West 4th Street, New York, NY 10014
Outdoor Dining Feature: Winter Yurts
Casa La Femme
If you're searching for an open-air dining set up, look no further than the ever-exotic Casa La Femme. Transporting patrons to the colors and atmospere of Egypt, Casa La Femme's charm includes plush decor, a menu with verve and specialty cocktails.
Where: 140 Charles St, New York, NY 10014
Outdoor Dining Feature: Color! Lights! Heat!
Katana Kitten
Newer to the outdoor dining game: cozy winter teepee tents. Take a seat in one within Katana Kitten's winter village and order an eccentric cocktail and dish up some savory and comforting classic Japanese food.
Where: 531 Hudson St, New York, NY 10014
Outdoor Dining Feature: Teepee Tents
The Pomeroy
With individual, heated and creatively themed cubbies, with titles including Miami, Peace and Love, The Lodge, and Old Hollywood, The Pomeroy in Astoria is a must see! Serving up new American comfort food and seating up to a party of 6, The Pomeroy also lines its ceilings with electric heaters to help with the chill of any frosty night.
Where: 36-12 Ditmars Blvd, Astoria, NY 11105
Outdoor Dining Feature: Individual Cubbies
230 Fifth Rooftop Bar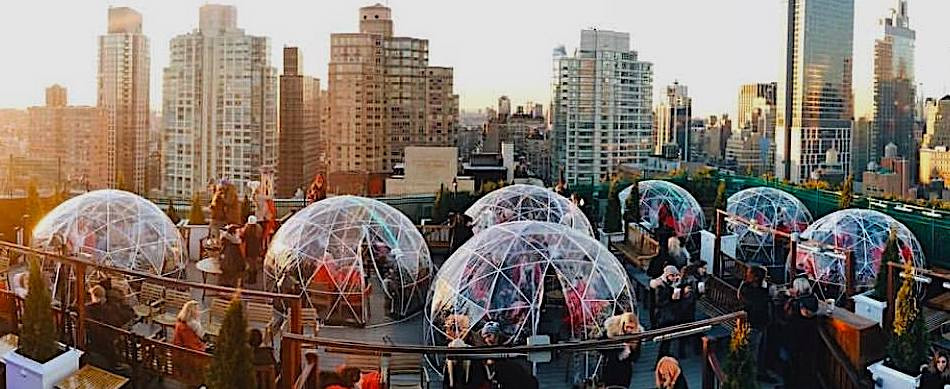 230 Fifth is New York's largest outdoor Rooftop Garden and fully enclosed Penthouse Lounge. As you pack away your summer wardrobe and break out your puffer coats, this rooftop sets up 17 heated igloo tents to get you in the holiday spirit.
Where: 230 5th Ave, New York, NY 10001
Outdoor Dining Feature: Rooftop Igloos
Industry Kitchen
Enjoying dinner in a heated greenhouse along with icy river views might be our favorite cold weather activity. Industry Kitchen, located along the East River next to the historic South Street Seaport, happens to have both. Grab a pizza and a cocktail, and soak in that heat before trekking back home.
Where: 70 South Street, At, Maiden Ln, New York, NY 10038
Outdoor Dining Feature: Heated Greenhouses
Dr. Clark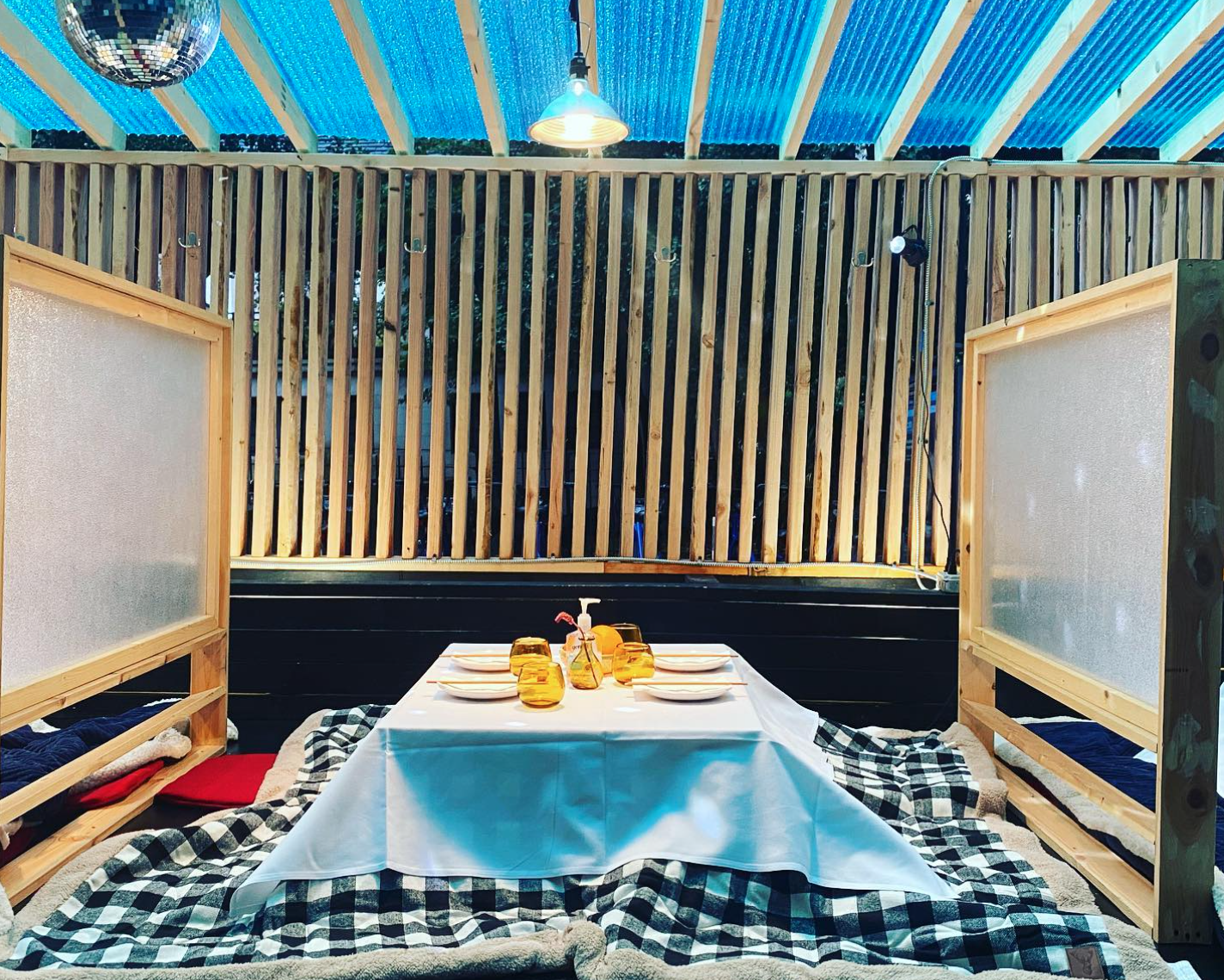 Dr. Clark will make you feel right at home with their heated kotatsu dining tables lined outside their Chinatown locale. With soft gingham-printed blankets spread across the floors and disco balls hanging from the ceiling, this eclectic Hokkaido restaurant is the perfect spot to indulge in sashimi and Japanese whisky.
Where: 104 Bayard St, New York, NY 10013
Outdoor Dining Feature: Outdoor Heaters
Kissaki Sushi
Kissaki constructs an intimate setting for creative seasonal plates served in both tasting menus and à la carte. Their enclosed, heated outdoor dining pergola welcomes you with red-tinted heat lamps and a full omakase menu.
Where: 319 Bowery, New York, NY 10003
Outdoor Dining Feature: Outdoor Heaters
The Winter Garden at The Standard
It's the perfect time to cozy up in Winter Garden at The Standard, East Village. Hunker down in their private alpine yurts, or outside (with heaters!) among the twinkling evergreens, with raclette burgers, fresh oysters, brick chicken, spiked hot chocolate, gooey fondue, freshly baked gingerbread cookies and more. Open daily for drinking and dining.
Where: 25 Cooper Sq, New York, NY 10003
Outdoor Dining Feature: Outdoor Yurts
Kyma
Bringing the tastes and style of Greece to the heart of Flatiron—Kyma is a stunning outdoor patio to try. Their dreamy set up serves greek-inspired seafood and drum roll, pleasant heating lamps to cozy up under.
Where: 15 W 18th St, New York, NY 10011
Outdoor Dining Feature: Outdoor Heaters
Route 66 Smokehouse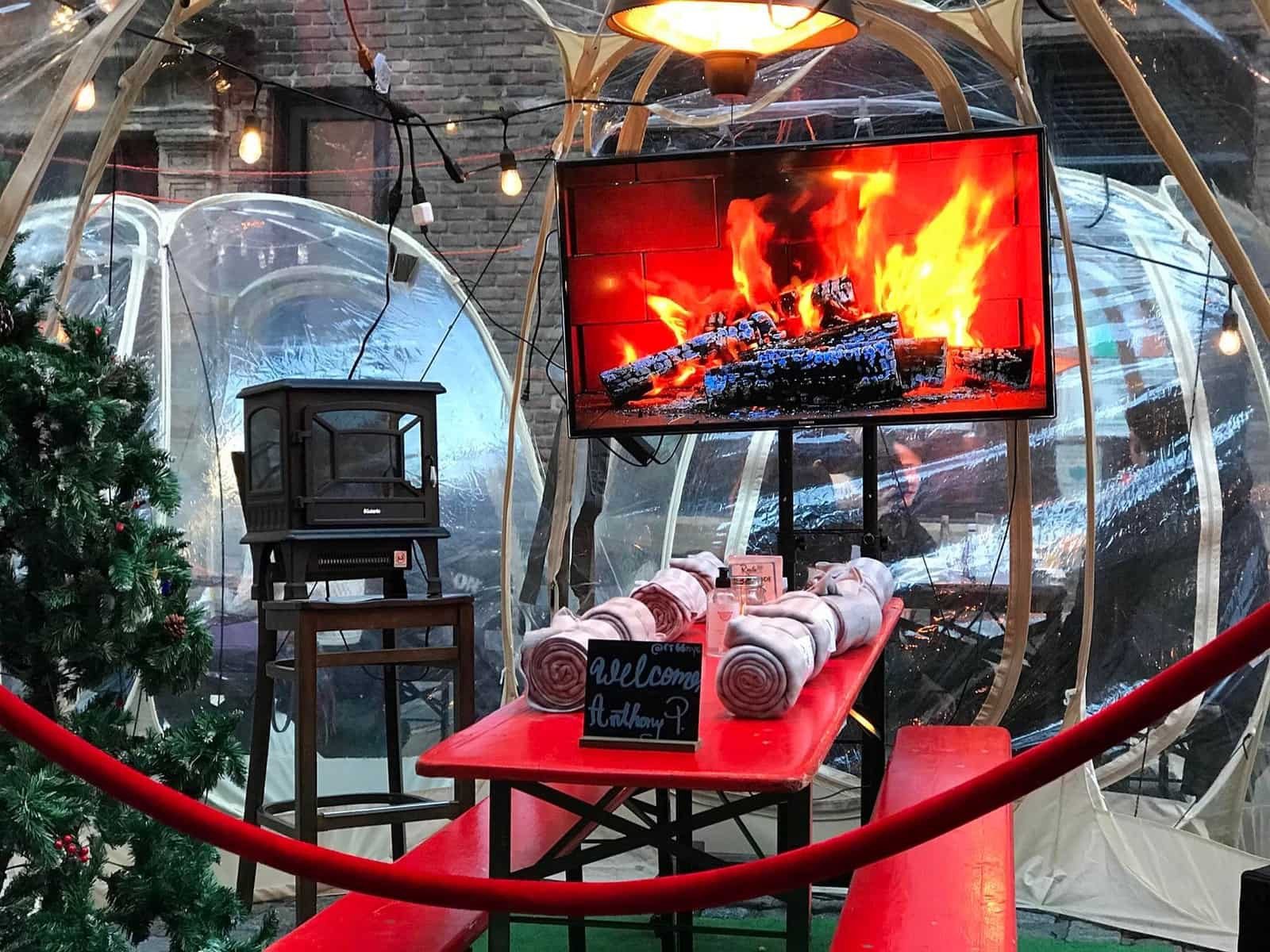 Pull off to the side of Route 66 to dine in an IRL snowglobe. Located on Stone Street, Route 66 Smokehouse's sidewalk is lined with heated bubble tents that seat 4-10 guests. Each bubble is stacked with heaters, hand sanitizer, and cozy decor to enjoy. And new for 2022, Route 66 has introduced VIP Bubbles! These feature a TV to watch sports or play Nintendo, an electric fireplace, souvenir beer glasses and classic board games—all for $75 per guest.
Where: 46 Stone St, New York, NY 10004
Outdoor Dining Feature: Heated Bubbles
For more information and to book your igloo.
Haven Rooftop
Located in the Theater District, this modern american cuisine spot alternates its decor per season, making for year-round enjoyment. And their blueberry french toast is just as heavenly as the view.
Where: 132 W 47th St, New York, NY 10036
Outdoor Dining Feature: Heated Rooftop
Don Angie
On the corner of Greenwich and W 12th, it's quite hard to miss Don Angie's impeccably constructed outdoor dining pods. Painted bright red and lined with a clean black-and-white checkered border, we can't think of a more fashionable (and warm!) spot to spoon-twirl some mouthwatering pasta.
Where: 103 Greenwich Ave, New York, NY 10014
Outdoor Dining Feature: Heated Pods
Cafe Du Soleil
The charming Cafe du Soleil has an outside bubble tent just for you to enjoy their simply delicious French fare. The neighborhood gem also has covered patio seating for the slightly less fierce winter days.
Where: 2723 Broadway, New York, NY 10025
Outdoor Dining Feature: Outdoor Igloos
Di An Di
Di An Di is fun from the second you sit down. With a plethora of hanging green plants and twinkling heated bulb lights above each table, you'll surely come for the decor and stay for the delightful Vietnamese cuisine. One of our favorite finishing touches? Intricate gold scissors replace knives to slice your food at this hip Greenpoint spot.
Where: 68 Greenpoint Ave, Brooklyn, NY 11222
Outdoor Dining Feature: Outdoor Heaters
Extra Virgin
Dare we say no one does outdoor dining quite like the West Village? Contributing to the success of that statement is Extra Virgin. A staple for outdoor dining in average times, Extra Virgin has elevated sidewalk seating, creating an expansive outdoor patio. You can now enjoy VYBES, an organic beverage made with CBD on that patio, for an extra surprise.
Where: 259 West 4th Street, New York, NY 10014
Outdoor Dining Feature: Outdoor Heaters
PHD Terrace at Dream Midtown
PHD Terrace has transformed into a Midsummer Night's Dream for the winter with a gorgeous garden and plenty of lights. There's a brand new flower tunnel, along with the signature twinkling strung lights, lush wall covering greenery and swing seat. Try their Winter Warmer Margarita made with Milagro tequila, lime, cinnamon syrup and strawberry puree.
Where: 210 W 55th St, New York, NY 10019
Outdoor Dining Feature: Heated Rooftop
SERRA by Birreria
The days may be shorter, but SERRA by Birreria's winter rooftop will keep you lingering to experience all the magic and tastes of the Italian countryside! Enjoy traditional, seasonal ingredient-filled Fonduta Valdostana, housemade potato gnocchi, and warm up with one of their four different mulled wines! All while surrounded by sparkling, woodsy decor.
Where: 200 5th Ave, New York, NY 10010
Outdoor Dining Feature: Seasonal Rooftop
For more information on SERRA by Birreria.
Bottino
Enjoy dinner under the stars at Bottino – quite literally. With beautiful golden stars adorning their open-air back garden, enjoy Tuscan cooking in this wonderland. Their menu is filled with housemade and rustic delicacies, country bread and bee-pollen infused bites, classic steak and chicken done to perfection, and even "spicy octopus," all must-tries.
Where: 246 10th Ave, New York, NY 10001
Outdoor Dining Feature: Heated Garden
Cafeteria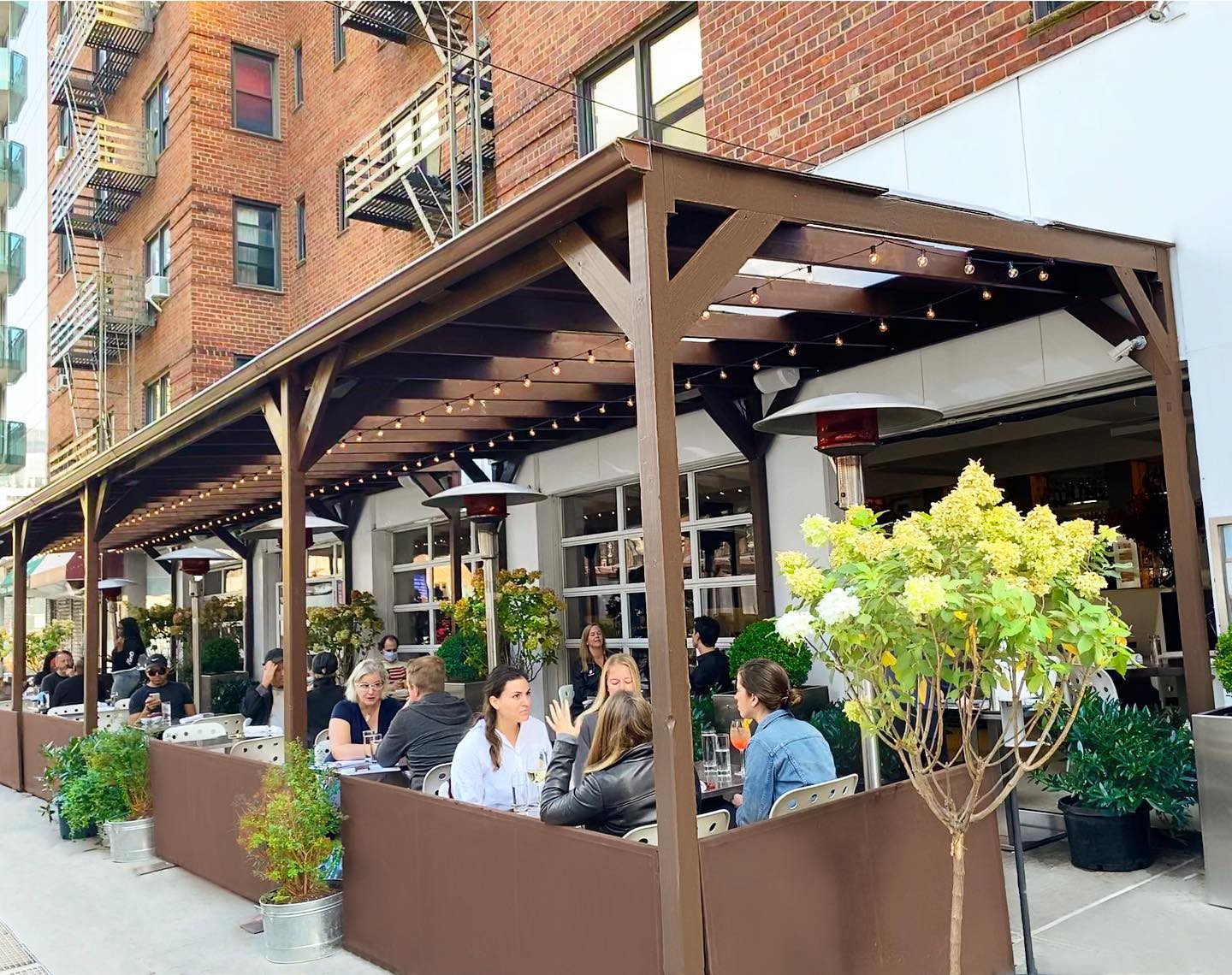 Cafeteria's swanky take on a classic diner brings guests flocking to their doors year round. As the snow begins to fall, their wraparound sidewalk seating has been lined with heated cozy "suites" for private groups to enjoy. And in classic diner fashion—you can eat their elevated comfort food 24/7.
Where: 119 7th Ave, New York, NY 10010
Outdoor Dining Feature: Heated Suites
Archer & Goat
With a menu designed to be shared, family style, bring your crew and relax in Archer & Goat's casual Harlem dining locale. Their spacious patio is set with heaters, blankets and overhead coverings to keep you warm, and we suggest trying their brussel sprouts with cilantro, chimichurri and pickled peppers—as they boast they consistently convert sprout skeptics with this!
Where: 187 Malcolm X Blvd, New York, NY 10026
Outdoor Dining Feature: Outdoor Heaters
The Rooftop at Pier 17
The seasonal conversion of "The Greens" features 28 individual dining cabins for guests to enjoy throughout the colder months. Seating up to 10 people, the cabins promise to bring customers seasonal décor, spacious banquette seating, a virtual fireplace, heaters, and floor-to-ceiling views of New York City.
Where: 89 South St, New York, NY 10038
Outdoor Dining Feature: Rooftop Greenhouses
LIKE WHAT YOU'VE READ?
Never miss out on a new experience!
Create a Bucket Listers account to access exclusive offers and the latest news in your city