food & drink · music & nightlife · outdoor activities ·
Published May 23, 2023
The Year-Round Guide to Chicago's Best Rooftops
These 31 must-visit rooftop spots in Chicago are raising the bar.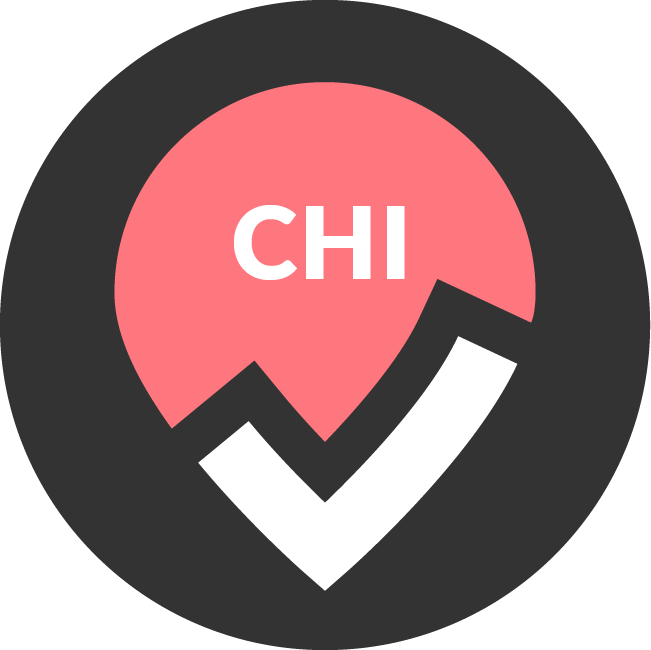 by Chicago Bucket List
Is it just us, or is everything better on a rooftop? Chicago is full of rooftop bars and restaurants that boast stunning views of the city day or night, so why not elevate your happy hour, brunch, or date night and kick things up a notch? All puns aside, if you're looking for the perfect spot to enjoy a delicious meal or a refreshing drink with a view, we have you covered.
We've compiled a list of 18 spots that bring the views, the heat (in the form of fireplaces), delicious drinks, and world-class food. So, sit back, relax, and get ready to take in the breathtaking sights of Chicago's skyline from some of the best vantage points in the city!


This guide is sponsored by Q Mixers. Q Mixers is the best way to make a quality cocktail quicker this summer. Q Mixers are made with premium ingredients, max carbonation, and never too sweet. To easily recreate your favorite cocktail at home, take your favorite Q Mixer, add ice, your favorite spirit, a dash of citrus, and you're done. Click here to purchase and use code 20SUMMERQ for 20% off!
31 of the Best Chicago Rooftop Bars
BiXi Beer
The Asian-inspired bites, specialty cocktails, and enticing brunch menu are enough to convince anyone to snag a reservation at BiXi Beer. This upscale brewpub has a sleek and classic interior featuring black and white marble accents, live greenery, and a plush dining room. Not to mention a breezy outdoor patio and a stunning atrium with a retractable glass roof so you can enjoy spectacular Chicago views all year long.
Where: 2515 North Milwaukee Avenue
More information.
The Up Room
If you want to impress a date or out-of-towner, bring them to The Uproom. Located on The Robey Hotel's 13th floor, this spot offers panoramic 180-degree views of the city. The mid-century modern design pairs nicely with their hand-crafted cocktails.
Where: 2018 W North Ave, Chicago, IL
More information.
Z Bar
Looking for a special place for a special occasion? Meet Z Bar, a swanky rooftop spot with sweeping vibes of the city. The real attraction here is the cocktails inspired by world-class cuisine, and the standout is the Manhattan Royale, served in a crystal and garnished with 24K gold and saffron or black truffle bitters.
Where: 108 E Superior St, Chicago, IL
More information.
Comedy Bar
Every Sunday this summer, you can enjoy some laughs on The Comedy Bar's rooftop patio. Featuring a mix of local acts along with national headliners, breathtaking views of the Magnificent Mile, and a full dinner menu from Chicago's famous Gino's East pizza, this is the ultimate comedy experience. Tickets include seating and a welcome drink!
Where: Comedy Bar: 162 E Superior St, Chicago IL
More information.
IO Godfrey Rooftop Lounge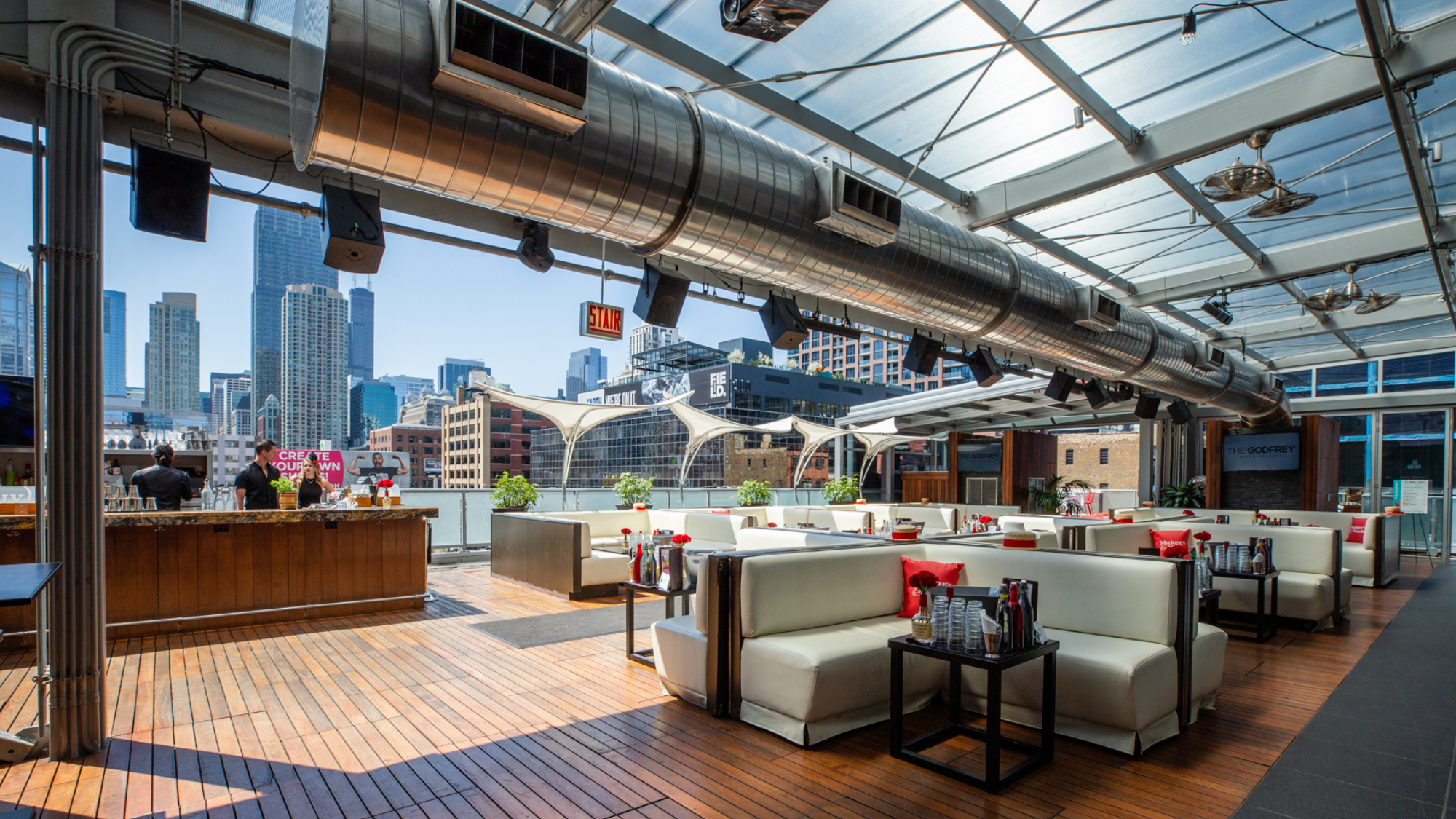 Once you step foot into this gorgeous, open-air rooftop lounge, you may not want to leave. IO Godfrey is open all year, thanks to its retractable glass roof. Have a drink from their impressive menu and take in the sprawling views of the Chicago skyline, with some top-notch Wagyu beef sliders on the side.
Where: 127 W Huron St, Chicago, IL
More information.
Boleo
Boleo instantly transports you out of Chicago. Take in iconic views from this 15th-story bar, where everything here is purposeful and invigorating, from the Peruvian-inspired tapas menu to the lively music.
Where: 122 W Monroe St, Chicago, IL
More information.
Nobu Rooftop
You can never go wrong with Nobu. Perched 11 floors above the round, you'll find yourself taking in Chicago's skyline as you've never seen it before. Indulge in the candlelight, cozy furniture, and, of course, the world-renowned stellar menu.
Where: 155 N Peoria St 11th Floot, Chicago, IL
More information.
Lonesome Rose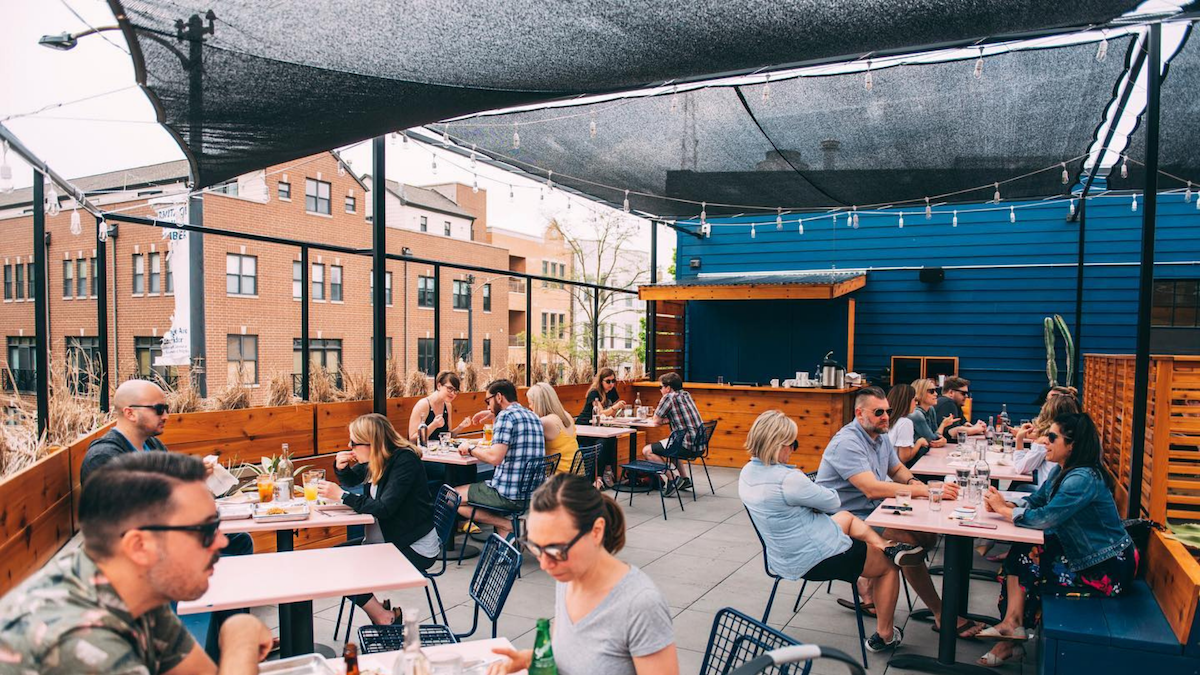 Located in Logan Square, Lonesome Rose is a must-visit for the food alone. Inspired by the street food of Mexican cities, you'll find a host of mouth-watering dishes. Insiders recommend the chile con queso and the fried chicken tacos. And, of course, the views are Insta-worthy.
Where: 2101 N California Ave, Chicago, IL
More information.
Upstairs at the Gwen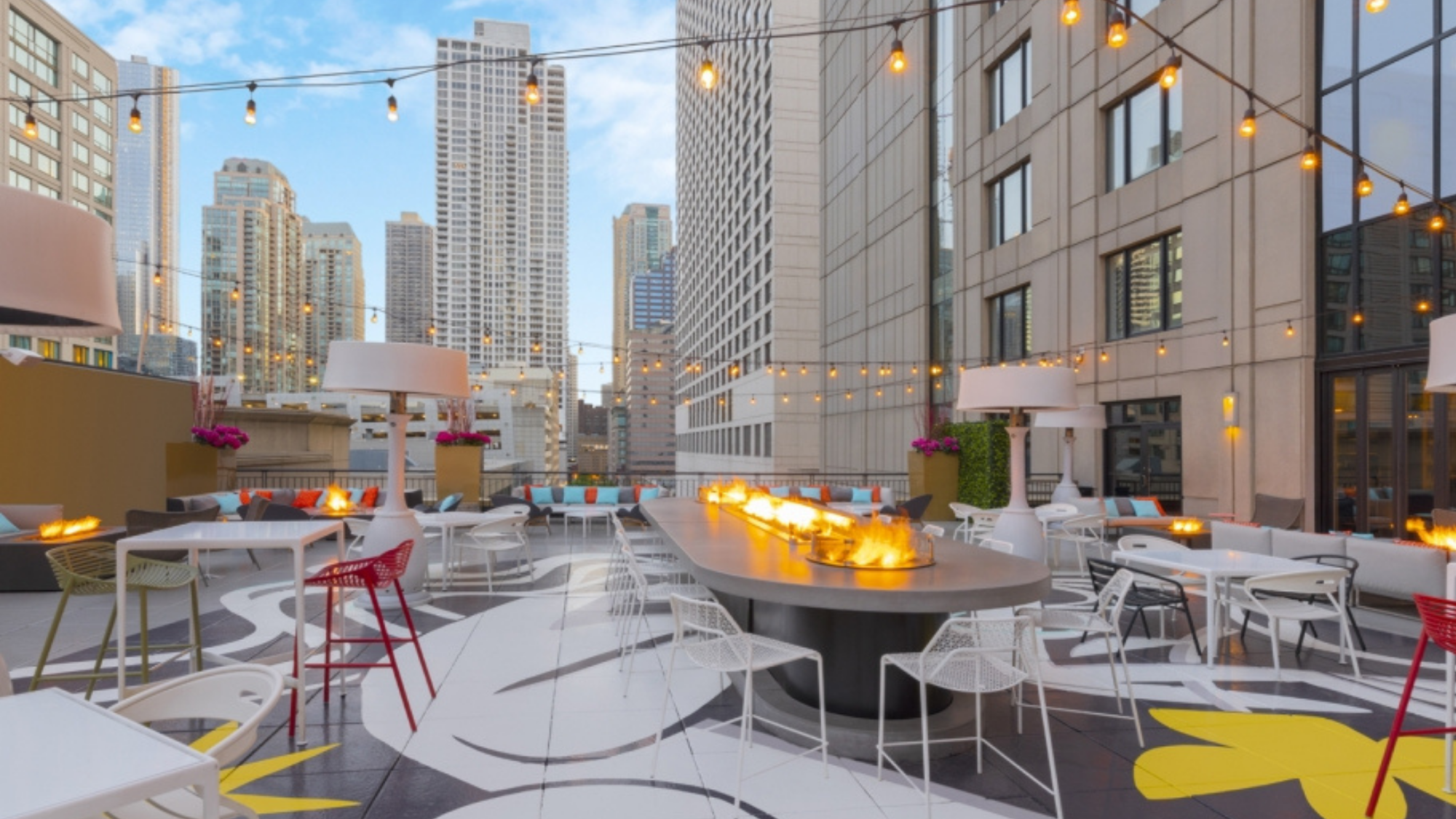 If you visit Upstairs at The Gwen in the warmer months, it'll be lovely. But wintertime here is the real star. There are cabins to cozy up in, faux furs, and Alpine-inspired bites—careful, you might mistake it for Switzerland.
Where: 521 N Rush St, 5th Floor, Chicago, IL
More information.
Devereaux
Located on the 18th floor of the Viceroy Chicago Hotel, Deveraux is a classy spot. In the summer, greenery surrounds a rooftop pool. In the winter, cozy up in chalets lit by candle and firelight with a complimentary faux fur.
Where: 1112 N State St, Chicago, IL
More information.
Cindy's
Located atop Chicago's Athletic Association Hotel, this spot is a must if your sport of choice is brunching. The rooftop is open year-round, with fireplaces to keep you toasty or a glass atrium if you'd rather soak in the iconic views of Millenium Park and Lake Michigan inside.
Where: 12 S Michigan Ave, Chicago, IL
More information.
Raised | An Urban Rooftop Bar
Raised seeks to raise the bar for bars (Try saying that three times fast!). Located three levels above the ground, guests will feel the city's heartbeat while also taking in breathtaking views. A year-round bar by all accounts, you can soak up summer nights, warm up next to a fire, or cuddle up in their greenhouse—all with a craft cocktail in hand.
Where: 1 West Upper Wacker Drive, Chicago, IL
More information.
Utopian Tailgate
Surprise: Utopian Tailgate is a tailgating paradise! Think tableside coolers of beer, stadium seating, and cornhole. No off-seasons here—this whimsical, lush space is open all year for sports fans and non-sports fans alike.
Where: 1608 N Wells St, Chicago, IL
More information.
Bar Avec
Inspired by seaside restaurants in Spain and Portugal, this seasonal rooftop is a must-visit during the summer months. Located in the heart of the River North District, this spot is great for a big night out or a casual snack during a busy day. The luxurious open-air spot will have you thinking you're on the shores of the Mediterranean—not Lake Michigan.
Where: 640 N LaSalle Dr 8th floor, Chicago, IL
More information.


---
Premium cocktails mixed quicker this summer with Q Mixers
---

VU Rooftop
VU Rooftop in the South Loop sits on the 22nd floor with epic views of the lake and downtown Chicago. The massive space includes three bars and two patios. You can even stop by for brunch and drinks on Saturdays and Sundays from 11 AM to 3 PM.
Where: 133 E Cermak Rd, Chicago, IL
More information.
ROOF on theWit
You can dine al fresco or indoors at ROOF on theWit, but you're really there for the swanky ambiance and good energy. And, of course, the sweeping skyline views from 27 stories high. There's always epic entertainment going on with world-renowned DJs, live music series, and more.
Where: 201 N State St, 27th Floor, Chicago, IL
More information.
The J. Parker
The J. Parker sits above the Hotel Lincoln. The place offers a large space with indoor and outdoor lounges and seats, and it's the perfect spot to grab a cocktail and enjoy views of Chicago. There's also plenty of food from the delicious small plates menu (short rib egg rolls, buffalo cauliflower) and the large plates menu (four cheese grilled cheese, Nashville hot chicken sandwich). Need we say more?
Where: 1816 N Clark St, Chicago, IL
More information.
Cabra
Come for the sunny, plant-filled rooftop, stay for the acclaimed Peruvian food. It's no wonder this is on the top of everyone's restaurant bucket list—this spot is from the same team behind local favorite Girl & The Goat. Insiders say everything is good, but the salchipapas, avocado dip, and salmon ceviche are must-tries.
Where: 200 N Green St, Chicago, IL
More information.
Kennedy Rooftop
If 7,500 square feet of unobstructed views overlooking Chicago sounds like a good time, Kennedy Rooftop should be on the top of your list. The spot is spacious enough for summer crowds and has igloos for the winter. It should be noted their president-themed cocktail menu will give any history buff a laugh.
Where: 1551 W North Ave, Chicago, IL
More information.
Offshore
Did you know Chicago is home to the world's largest rooftop bar? Located in Chicago's Navy Pier, this spot lives has innovative cocktails, fresh seafood, and good vibes. A truly year-round spot, you can soak up the sun in the summer or cozy up next to a fireplace in the cooler months.
Where: 1000 E Grand Ave, Chicago, IL
More information.
Selva
This stylish, moody cocktail bar located within the Emily Hotel is inspired by the energy of a night in Mexico. Enjoy handcrafted cocktails, casual fare, great views, and good times.
Where: 7th floor of the Emily Hotel, 311 N Morgan St, Chicago, IL
More information.
Chateau Carbide
Located at the top of the luxurious Pendry Chicago, Chateau Carbide feels like you've stumbled into the French countryside. With an airy, sun-drenched garden and small plates and cocktails evocative of Cote D'Azur, this spot offers a transportive experience right in the heart of Chicago's Loop neighborhood.
Where: 230 N Michigan Avenue, 24th Floor, Chicago, IL
More information.
Cerise Rooftop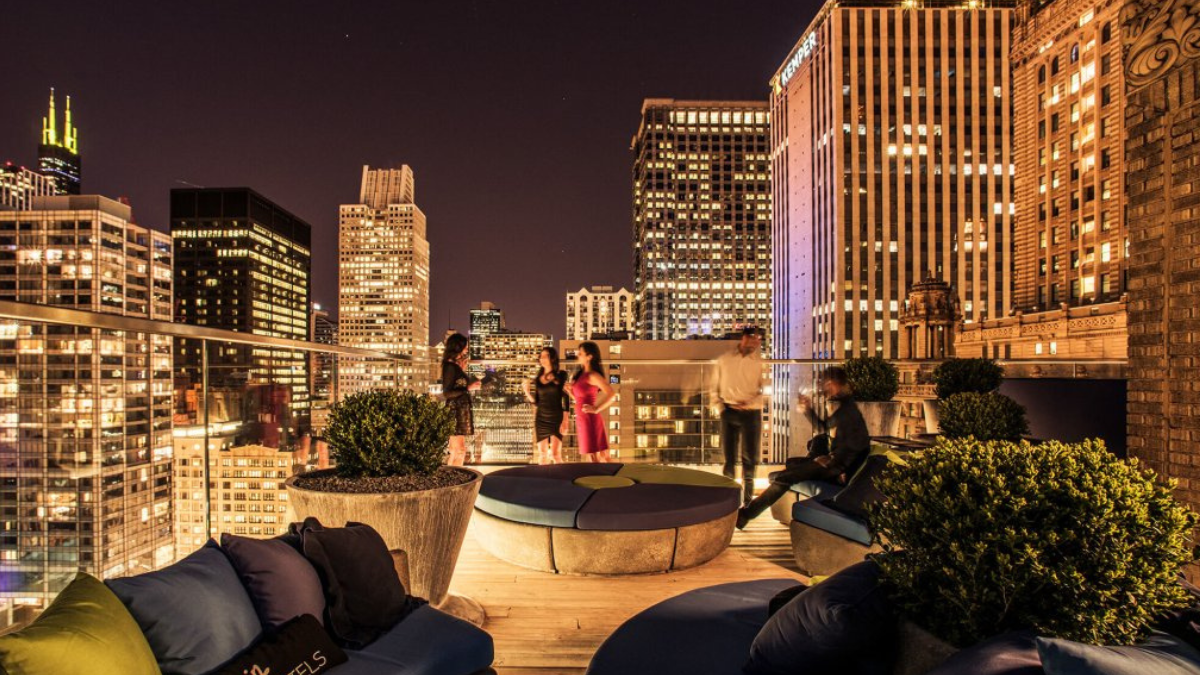 Soaring 26 floors above the city, Cerise is a favorite spot for drinking, dining, and nightlife. Not to mention unbeatable views of the Chicago River and surrounding buildings. With events, music, and dancing every week, there's never a bad time to stop in.
Where: 203 N. Wabash, Chicago, IL
More information.
London House Rooftop
Perched atop the London House Hotel, this rooftop bar offers stunning views of the Chicago River and the city skyline. Enjoy elevated fare like Blackened Scallops, Bulgogi Beef Nachos, and a wide variety of cocktails, beer, and wine while taking in the panoramic views from one of the lounge chairs or cabanas.
Where: 85 East Wacker Drive At North Michigan Avenue, Chicago IL
More information.
Aire
Aire is a newer rooftop bar located at the top of the Hyatt Centric Hotel that features open fireplaces for cozying up on chilly nights and umbrellas for shade on hot summer days. Plus, an enticing Midwestern-inspired menu, signature cocktails, shareable plates, and slushies.
Where: 100 W Monroe St, Floor 24, Chicago, IL
More information.
Streeterville Social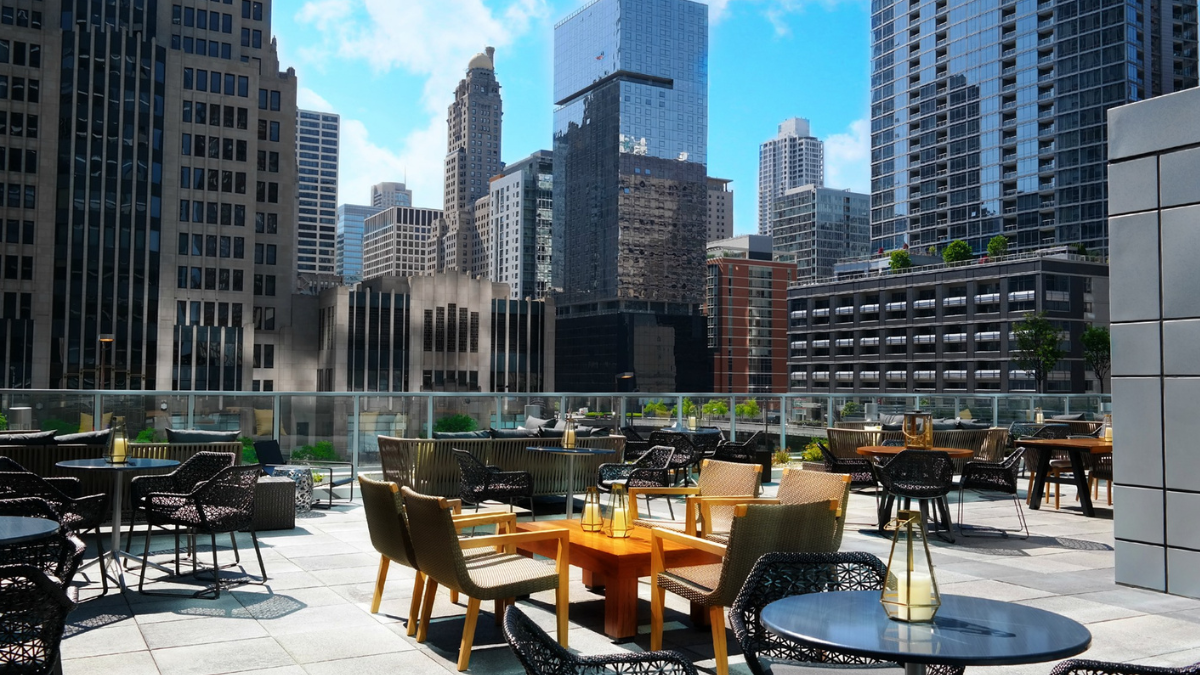 This seasonal rooftop is only open in the summer, so take advantage of it while you can. With snacks like Chorizo Popcorn, Spicy Tuna Tacos, and fresh summer cocktails, we promise it's worth visiting. Bonus: this spot offers great views of the Navy Pier Fireworks, so swing by on a Wednesday or Saturday and enjoy a post-dinner show.
Where: 455 North Park Drive, Chicago, IL
More information.
Terrace 16
Located on the 16th floor of the Trump International Hotel and Tower, Terrace16 offers stunning views of the Chicago River and the city skyline. The menu features classic American cuisine, and the rooftop is the perfect spot to watch the sunset. Heads up: this place has a business chic dress code.
Where: 401 N Wabash Ave, Chicago, IL
More information.
Sky Terrace at the Ivy
Enjoy delicious bites and handcrafted cocktails from one of the lounge areas at this breezy rooftop bar. With both indoor and outdoor seating and great views of the sparkling city, it's an ideal spot for happy hours and date nights.
Where: 233 East Ontario Street, Chicago, IL
More information.
The Roof at Joy
The topmost level of Joy District, the Roof at Joy in River North, boasts an industrial-chic vibe with plenty of seating and great views of the city. With a covered, heated patio during winter months and parties in the summer every day, it's a must-visit spot any time of year.
Where: 112 W Hubbard, Chicago, IL
More information.
NoMI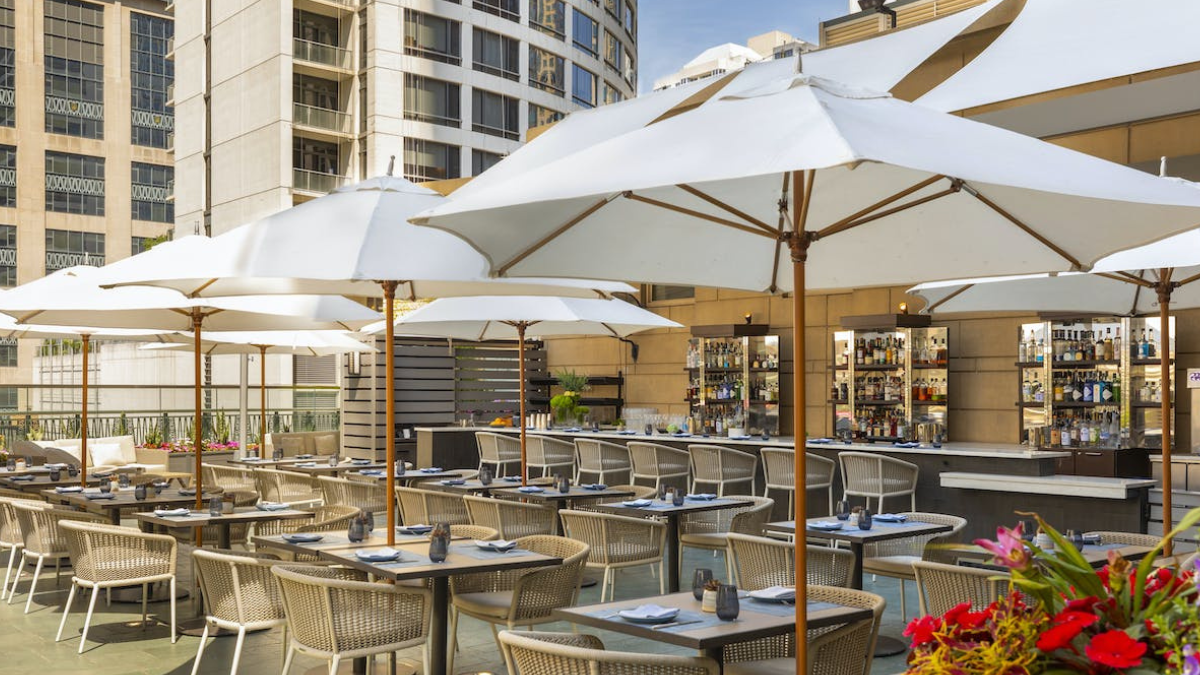 Located on the 7th floor of the Park Hyatt hotel, NOMI offers a 30-ft. bar with an ivory granite countertop and stunning views of the Magnificent Mile and Lake Michigan in a relaxed, sophisticated atmosphere. The menu features seasonal American cuisine—don't miss out on their weekend brunch every Saturday and Sunday from 10 am to 2 pm!
Where: Seventh Floor, 800 Michigan Ave, Chicago, IL
More information.
Gene's Rooftop Bar and Beer Garden
Known for its mouthwatering smoked sausages and bratwurst, Gene's is also home to a European-style rooftop beer and wine garden. Sip on wine by the glass or a cold beer while relaxing surrounded by flowers, grapes, tomatoes, and herbs. Open for the season starting Memorial Day .
Where: 4750 N. Lincoln Ave., Chicago, IL
More information.
Azul Mariscos
A vibrant spot along the river in West Loop, Azul features a menu full of Mexican seafood dishes and a variety of cocktails. The rooftop has a fun, relaxed vibe, perfect for group gatherings and happy hours.
Where: 1177 N Elston, Chicago, IL
More information.
etta
Located in the Bucktown neighborhood, etta's rooftop patio offers a cozy, intimate atmosphere with string lights and plenty of greenery. Enjoy wood-fired pizza and a glass of wine while taking in the views of the city skyline.
Where: 1840 W North Ave, Chicago, IL
More information.
LIKE WHAT YOU'VE READ?
Never miss out on a new experience!
Create a Bucket Listers account to access exclusive offers and the latest news in your city