food & drink ·
Published February 15, 2023
Try a Seafood and Sake Pairing at These 12 NYC Restaurants
For a limited time, you can enjoy the combination of seafood and sake pairings at select restaurants across NYC. 🍶🍣
by New York Bucket List
It's no secret that New York is home to hundreds of top-notch restaurants offering a diverse array of cuisines, but when it comes to choosing a place to eat, it's easy to get stuck rotating through the same short list of go-to spots.
Don't worry, though—we're here to rescue you from burgers and fries. This month, you can sample fresh, unique seafood dishes paired with sake to step up your dining game. Seafood and Sake Pairing Month runs through February 19, and you dine on raw oysters, fish and chips, fresh crab, and more while trying specially selected sakes.
The Japanese beverage pairs well with various cuisines, but seafood, in particular, is a spectacular match. It enhances the umami flavor in food and may just be the future alternative to wine. A key element in sake making is Japan's proximity to the ocean, and master sake brewers integrate their extensive scientific knowledge in creating the drink, which harmonizes beautifully with seafood.
In other words, sake and seafood are culturally and scientifically the perfect match. But don't take our word for it—try it for yourself. We've rounded up some of the best seafood restaurants in New York, from Greenpoint to Harlem, all of which will be offering special sake pairings.
Lamia's Fish Market
This upscale Mediterranean spot in the East Village serves up a variety of raw oysters, shareable seafood plates like ceviche, shrimp cocktail, and calamari, and classic entrees like linguine and clams and whole grilled fish.
Where: 47 Ave B, New York, NY
More information.
Lolo's Seafood Shack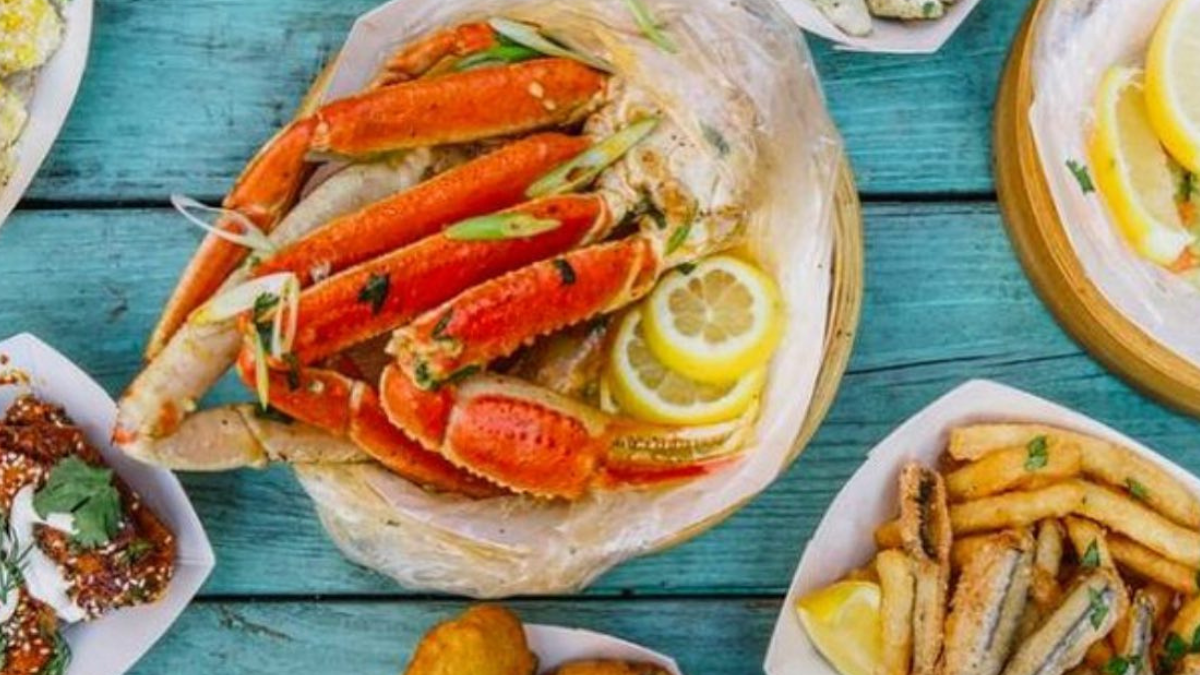 This comfortable, laidback seafood shack in Harlem boasts a wide variety of coastal comfort foods, from sauced shrimp to Caribbean street eats like crunchy conch fritters.
Where: 303 West 116th Street, New York, NY
More information.
Ed's Lobster Bar
Ed's Lobster Bar in SoHo is known for its New England-style seafood with a twist, including menu items like lobster ramen, New England Clam Chowder, and a whole Maine lobster.
Where: 155 Grand St, New York, NY
More information.
Grand Army Bar
This oyster and cocktail bar in the heart of Brooklyn offers an extensive raw menu plus other seafood delights like smoked trout dip in a rustic-chic setting.
Where: 336 State St, Brooklyn, NY
More information.

Sagaponack
Located in Flatiron, Sagaponack offers an inviting experience through shareable plates featuring an elevated seafood menu.
Where: 4 W 22nd St, New York, NY
More information.

Ama Raw Bar
With locations in both the East and West Villages, Ama Raw Bar specializes in Asian-inspired seafood dishes like lobster wonton soup, miso crab cakes, shrimp bao buns, and more.
Where:
East Village: 190 Avenue B, New York, NY
West Village: 39 Downing St, New York, NY
More information.
Greenpoint Fish Market and Restaurant
A unique combination of fish market and restaurant, this popular Greenpoint spot offers oysters on the half shell, lobster rolls, tuna burgers, and more, as well as rotating seasonal options. You can also swing by and pick up fresh seafood to bring home.
Where: 114 Nassau Avenue, Brooklyn, NY
More information.
Threes Brewing
Threes Brewing Greenpoint features fresh catches from the Greenpoint Fish Market and Restaurant. you will find our menu of the freshest catch. Stop by for happy hour and dinner on weekdays and enjoy full lunch and dinner on weekends.
Where: 113 Franklin St, Brooklyn, NY
More information.
Blue Seafood Bar
Enjoy fine Mediterranean dining at Blue Seafood Bar in Hell's Kitchen, featuring seafood and tapas in an elegant, intimate setting.
Where: 856 9th Avenue (at 56th St), New York, NY
More information.
Littleneck
Named after the small, flavorful clams, Littleneck in Gowanus serves New England-style seafood fare in a relaxed, vibey atmosphere.
Where: 288 3rd Avenue, Brooklyn, NY
More information.
Fish Cheeks
This vibrant restaurant in NoHo serves flavorful Thai food dishes that celebrate the team's cultural heritage. Find menu items like coconut crab curry, grilled mackerel, and prawn Karee.
Where: 55 Bond St, New York, NY
More information.
Note: The Seafood & Sake Pairing campaign may run longer than February 19, depending on the restaurant. Check each site for specific details.
LIKE WHAT YOU'VE READ?
Never miss out on a new experience!
Create a Bucket Listers account to access exclusive offers and the latest news in your city