Thirty Seconds To Mars with AFI, Poppy & KennyHoopla at Huntington Bank Pavilion at Northerly Island (up to 45% off)
Saturday, 8/10/24
Huntington Bank Pavilion at Northerly Island, 1300 S...
music & nightlife

BEST PRICE
What you will experience
Bucket Listers is excited to partner with Live Nation to offer you exclusive ticket pricing:
💰 Starting at $32 per person 
🗓️ Saturday, 8/10/24
🚪 Doors Open at 5:30 PM
⏰ Show Starts at 6:30 PM
📍 Huntington Bank Pavilion at Northerly Island: 1300 South Linn White Drive, Chicago, IL 60605
All sales final; no refunds, cancellations, or reschedules

Can't make it out to Huntington Bank Pavilion at Northerly Island? Don't worry, the tour will also be coming to the following venues:
- (7/26/2024) White River Amphitheatre in Auburn, WA
- (8/6/2024) Pine Knob Music Theatre in Clarkston, MI
- (8/14/2024) Freedom Mortgage Pavilion in Camden, NJ
- (8/15/2024) Merriweather Post Pavilion in Columbia, MD
- (8/17/2024) Barclays Center in Brooklyn, NY
- (8/18/2024) Xfinity Center in Mansfield, MA
- (8/23/2024) iTHINK Financial Amphitheatre in West Palm Beach, FL
- (8/27/2024) Dos Equis Pavilion in Dallas, TX
- (8/29/2924) The Cynthia Woods Mitchell Pavilion in Woodlands, TX
- (8/30/2024) Germania Insurance Amphitheater in Austin, TX
- (9/1/2024) Talking Stick Resort Amphitheatre in Phoenix, AZ
- (9/4/2024) Shoreline Amphitheatre in Mountain View, CA



Seating Sections 
Tiering distinctions offer the same ticket inclusions and are based on current demand. In other words, the sooner you purchase, the more you save! Tickets purchased for a specific section will receive the best available seats for that section. Your party will be automatically seated together if reserved, and your seat assignments will be issued after the purchase is completed.
• 300 Level (up to 45% off retail pricing of $58.35)


*Retail pricing includes ticket price and all fees

Lineup
Thirty Seconds To Mars
AFI
Poppy
KennyHoopla 

About The Event

Multi-platinum selling artist Thirty Seconds to Mars, comprised of brothers Jared and Shannon Leto, makes a triumphant return with their sixth studio album, It's The End Of The World But It's A Beautiful Day, released September 15th via Concord Records. The album heralds a new era for the band, one that not only explores the darker sides of the human experience but the hope as well, an arresting reminder that even in the face of seemingly impossible obstacles, there is still beauty to be found in the world. Lead single, "Stuck" officially debuted at #1 on the Alternative radio chart and scored a top 10 hit in Italy, marking the fastest chart climb of the band's career.

Sitting in the top three of the German airplay charts, the tour's namesake and current single, "Seasons" asks if we can accept change as we move through the many different seasons of life.


For more information, please see the press announcement here.

Live Nation Entertainment
Live Nation Entertainment (NYSE: LYV) is the world's leading live entertainment company comprised of global market leaders: Ticketmaster, Live Nation Concerts, and Live Nation Sponsorship. For additional information, visit www.livenationentertainment.com.

For more information about Huntington Bank Pavilion at Northerly Island, please go here.



What to consider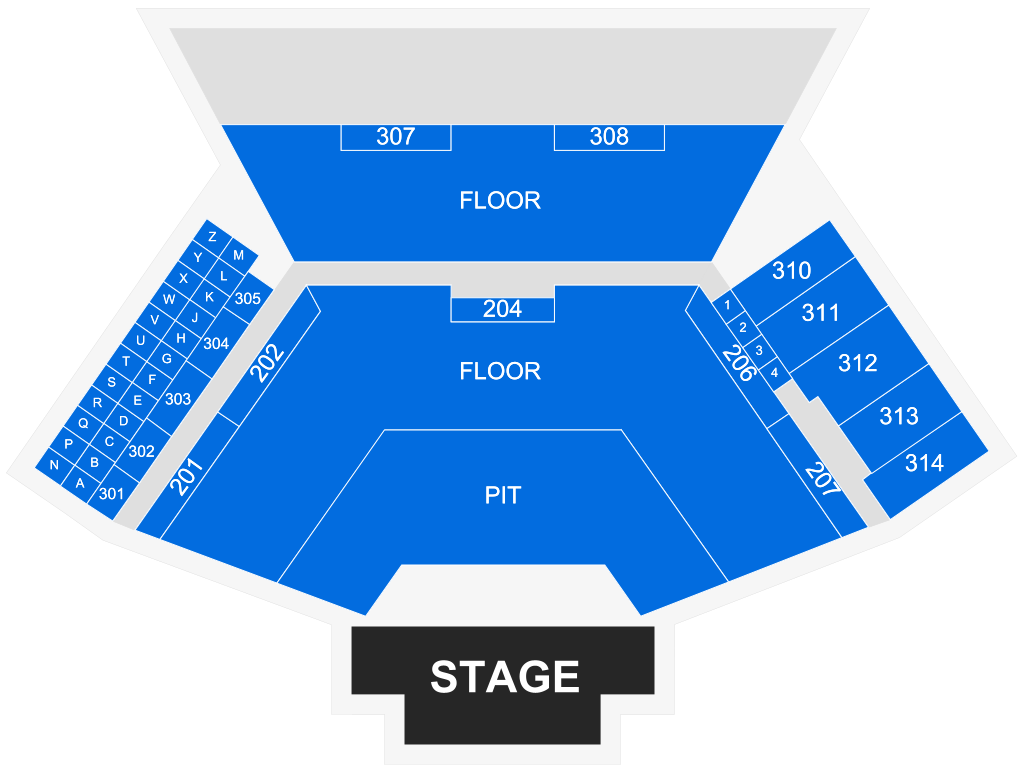 What are the parking options at Huntington Bank Pavilion at Northerly Island?
Pay to park: is available at Soldier Fields North Parking Garage at the average lot opening time (approximately 1 hour before venue gates open). Please visit www.soldierfieldparking.com to pre pay for parking and see all options, pricing, and times available for each event. VIP Parking: is also available as an upgrade at www.livenation.com (separate from your ticket) and is located within the Adler Planetarium Lot (between our main gate and the Adler Planetarium). VIP Parking offers you parking just outside the venue gates! Message boards will direct you to where VIP Parking is still available when you enter the Museum Campus. If you have a VIP Parking pass, please show these to the Traffic Management Authorities, and they will direct you as needed. Additional fees may be associated with an early entry into the pay to park locations. Please check the specific event page, as these times are subject to change. Oversized vehicles: including buses, campers, RVs, and limousines can drop off and pick up on the westbound lanes (north) side of Solidarity for standard shows. Please note the drop off and pick up locations are subject to change without prior notice directed by the Traffic Management Authority. Parking is available for buses, campers, RVs, and limousines in the Adler Planetarium Lot. There is a limited amount of bus and RV parking at the Planetarium. Please reserve your spot ahead of time by pre purchasing online at www.soldierfieldparking.com. Parking for bus and RV will not be available on site without a pre paid voucher. There is no overnight parking permitted. Please note the drop off and pick up locations are subject to change without prior notice directed by the Traffic Management Authority*.* Standard Show parking fees: $40 Adler Planetarium Lot, East Parking Lot, and $35 North Garage, Waldron Deck, and South Lot (subject to availability) ** *Please note SP+ operates the parking lots, and prices are subject to change without notice. Please visit www.soldierfieldparking.com to pre pay for parking and see all options, pricing, and times available for each event.
Is there accessible seating?
Ticketing- ADA tickets can be purchased online via www.livenation.com. You do not need to call the box office to place an order as all of our accessible tickets are available through www.livenation.com. Look for the handicap logo on the Find Tickets page to view all available accessible seats. We do have accessible seating in every price range, but be advised it does occasionally sell out. We have very limited seating available for guests on the day of the event so please make sure you purchase accessible seating when you order tickets. Day of Show Parking- Accessible Parking is at Soldier Fields North Garage. There are also a limited number of spaces in the VIP lot (Adler Parking Lot off Linn White Drive). All Accessible Parking is subject to the parking fees posted by the parking lot operators. Accessible Stations- If you have questions or need assistance we have a location staffed with customer service employees to help answer questions related to seating or other accommodations. This station is located at the Info Booth next to the VIP Club. Unexpected Needs- If you have had an injury or illness that prevents you from using the original seat you purchased, we strongly recommend going through www.livenation.com to exchange all tickets for accessible seating. We will have a very limited number of seats available on the day of the show for such issues, but we cannot guarantee we will be able to seat you. Please remember that accessible seating permits for the guest with the accessible need and one companion. Interpreter Requests- If you will need an interpreter for an event, please give us at least 2 weeks notice to secure. Guests that request an interpreter will need to pick up their tickets at will call. When the tickets are picked up we will introduce you to your interpreter for the evening and take you to your seats. There is no charge for interpreter services. Please call 312-288-3190 to arrange for an interpreter for your visit. Hearing Assistance- Guests who require assisted listening devices can contact our venue office to arrange for a device before the event. Please give us at least 2 days notice. Accommodations- The venue has designated ADA restrooms on-site. They are located on the north and south ends of the beachside run of bathrooms and the grandstands west side (Linn White Dr. side). There is also a private ADA restroom within the main trailer of the VIP patio. All concession stands and merchandise locations are accessible as well.
What are the general rules of Huntington Bank Pavilion at Northerly Island?
SUBJECT TO CHANGE BASED ON EVENTS. To reduce crew contact with fan belongings, we have implemented the following bag policy: we will allow clear plastic, vinyl or PVC tote bags no larger than 12" x 6" x 12" and/or small clutch bags (6"x 9"). NO OTHER BAGS OF ANY TYPE WILL BE ALLOWED. Items PERMITTED in this venue include - Snack food in clear plastic gallon-size bag - Factory sealed water up to a gallon in size or empty bottle - Cameras (nonprofessional only, no detachable lenses). Items NOT PERMITTED in this venue include: - Weapons - Alcohol - Drugs - Camping chairs or bag chairs - Bags that are not clear or are larger than 12" x 6" x 12" (non-clear bags up to 6" x 9" are allowed) - Umbrellas - Laser pointers - Skates - Wallet chains - Ice chests - Banners - Flyers - Beach balls - Frisbees - Fireworks - Outside food or beverage (except as noted above) - Video and audio recording devices (unless otherwise noted) Camera Policy: - Personal cameras ARE allowed in the venue. - Flash photography, video, and removable lens cameras ARE NOT permitted without venue approval. PLEASE NOTE: These guidelines are subject to change and are at the discretion of management.
Are children allowed?
There are no age restrictions. Children under the age 2 years old are admitted free but must sit on a parent lap. Parents are encouraged to use reasonable discretion as some concerts may not be suitable for children.
Sales for this experience have ended
Add to your Bucket List to be the first to hear when more tickets become available!
Frequently asked questions