Published Invalid Date
All of the Can't-Miss Holiday Tree Lightings in NYC This Season
Where, when, and how to see all of New York's 2022 holiday tree lightings. 🎄🌟
by New York Bucket List
Every year right after Thanksgiving, New York City comes ablaze with world-class holiday lights across the entire city.
There's the towering 82-foot tall Rockefeller Spruce, the glittering tree under the historic Washington Square Arch, the Bryant Park tree lighting (with fireworks!), and so many more. We've rounded up all the tree lightings across the city and have info on where and when to see them all so you don't miss out!
P.S. For a complete guide to all the winter festivities this season, check out NYC's Ultimate 2022 Winter Bucket List.
The Seaport | November 29th
Head to the Seaport on November 29th for festive fun, including live music, photo ops, a countdown to the tree lighting, cookies and cocoa, ice sculpting, and other surprises. The evening kicks off at 5:00 PM with the Tree Lighting Ceremony and live performances. An after-party on the Ice Rink follows at 7:00 PM.
Where: 12 Fulton St.
For more information on the Holiday tree Lighting at the Seaport.
Bryant Park Winter Village | November 29th
Come for all the amazing shopping, skating, and igloo dining Bryant Park has to offer and stay for the spectacular tree lighting ceremony at 6:00 PM on November 29th. It's a true spectacle, with Broadway star hosts, performances by world-class ice skaters, musical performances, and fireworks!
The rink closes to the public at 2:00 PM that day for the ceremony and reopens to the public right after at 6:45. For a guaranteed viewing spot from the rink's Lace Up Area (with an included skate rental and extended skate session), snag a $65 Tree Lighting Watch and Skate Pass.
Where: 42nd Street and 6th Ave
For more information on the Bryant Park Winter Village Tree Lighting Ceremony.
Tavern on the Green | November 29th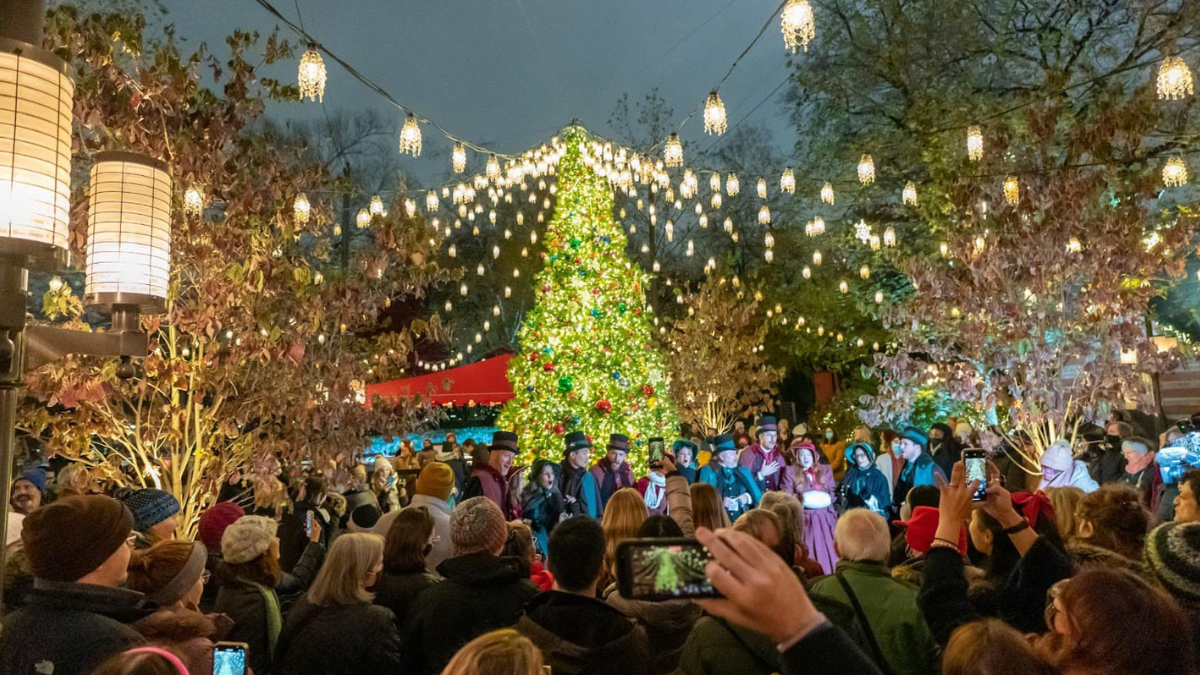 Tavern on the Green is a restored, elegant, landmark restaurant in the heart of Central Park, complete with courtyard and garden seating. See the lighting of their 20-foot tall Christmas Tree against the backdrop of the NYC skyline to the tune of an a capella caroling quartet, as well as a contemporary DJ (and a surprise Broadway performance!). Catch it on November 29th from 5:30–8:00 PM.
P.S. The restaurant is partnering with West Side Campaign Against Hunger if you'd like to donate on-site, and complimentary drinks and snacks will be provided at the event.
Where: 67th Street & Central Park West
For more information on the Tavern on the Green Tree Lighting.
Rockefeller Tree Lighting | November 30th
The holidays aren't really here until the Rockefeller Tree is aglow with dazzling lights. The magnificent 82-foot tall Norway Spruce will be lit on November 30th at 8:00 PM, with star-studded performances and breathtaking displays as usual. While you're there, go for a glide around the rink, see a Rockettes show at Radio City Music Hall, or check out the iconic Saks Fifth Avenue lights show. Can't make it to the lighting ceremony? Watch it live on NBC, or stop by anytime through January 2023.
Where: 30 Rockefeller Plaza
For more information on the Rockefeller Tree Lighting.
New York Stock Exchange | November 30th
Bringing some Christmas spirit to the NY Stock Exchange, the 99th Annual Tree Lighting and closing bell ceremony will take place on November 30th. Guests will have the opportunity to sip hot chocolate, send a note to Santa, and enjoy live musical performances as they watch the Spruce light up from 2:00 PM–6:00 PM.
Where: 11 Wall Street
For more information on the NYSE Tree Lighting.
Central Park Holiday Lighting | December 1st
Celebrate the start of the holiday season with the 26th annual holiday tree lighting at the north end of Central Park! Guests will be able to meet Santa, sing carols on the Plaza, and warm up with a cup of cocoa. The event begins at 5:30 PM on December 1st and will conclude with a dazzling flotilla lighting of trees on the Harlem Meer.
Where: Charles A Dana Discovery Center (East Side at 110th Street)
For more information on the Central Park Holiday Lighting.
Dumbo Holiday Tree Lighting | December 1st
Brooklyn's most iconic tree lighting will happen on December 1st at 5:30 sharp in the Pearl Street Triangle, right next to the stunning Manhattan Bridge. Hosted by the DUMBO Improvement District, the event will include Santa Claus visits, live music, and Christmas cover songs, plus hot chocolates and festive treats!
Consider bringing a toy, coat, or packaged non-perishable food to contribute to the various charitable drives on-site.
Where: DUMBO Archway, Brooklyn
For more information on the Dumbo Tree Lighting.
The Bronx Little Italy | December 3rd
Visit with Santa, sing holiday tunes, and enjoy classic Italian cookies and flowing hot drinks at the Bronx tree lighting ceremony! Happening Saturday, December 3rd, from 4:00 PM–6:00 PM, the annual tree lighting in Ciccarone Park is a warm, pastry-filled good time.
Where: Ciccarone Park Arthur Ave at East 188th St, The Bronx
For more information on the Bronx Little Italy Tree Lighting Ceremony.
Madison Square Park | December 7th
Head to Madison Square Park for their holiday tree lighting and a night of family-friendly fun! The joyful event will host its lighting on December 7th at 4:00 PM, along with live musical performances and some seasonal activities for the public.
Where: 11 Madison Ave
For more information on the Madison Square Park Holiday Lighting.
Washington Square Park | December 7th
The list wouldn't be complete without NYC's second longest-running tree lighting. Happening on Wednesday, December 7th at 6:00 PM, visitors can see the 45-foot tall Christmas tree come alive with sparkling lights under the Washington Square Arch.
P.S. Don't miss out on some of the city's best caroling at the same spot on Christmas Eve.
Where: Washington Square Park: 5 Ave, Waverly Pl., W. 4 St. and Macdougal St.
For more information on the Tree Lighting at Washington Square.
SEE ALSO:
❄️ NYC's Ultimate 2022 Winter Bucket List
🥂 The Most Festive Holiday Bars and Pop-Ups in NYC This Season
⛸ The Bucket Listers Guide to NYC Ice Rinks